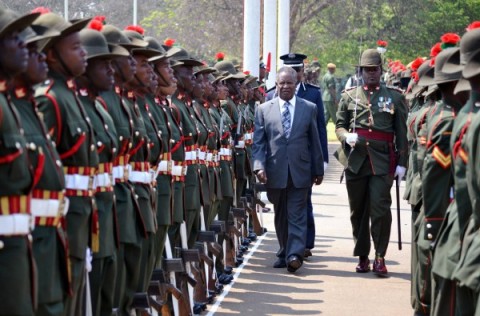 THE Ministry of Home Affairs has warned members of the public to desist from wearing regalia or uniforms meant for security personnel.
Home Affairs public relations officer Moses Suwali said police would arrest anyone found such attire regardless of their standing in society.
Mr Suwali said anyone found wearing attire with distinctive marks resembling those of the official security uniforms would be arrested and prosecuted.
He said that the Ministry of Home Affairs had noticed with concern the rising number of people  wearing uniforms prescribed for security personnel.
He said the ministry had received reports of some suspected cadres and members of the public who during Youth Day celebrations were clad in such security regalia. He this was also the case during some burials.
Mr Suwali said people should understand that official security uniforms were Government property and only worn by sworn-in officers from the defence forces, the Zambia Police Service and other security wings authorised by law.
He said  according to the law, any person found clad in such uniform without authority was guilty of an offence and was liable, upon conviction, to imprisonment or a fine or both.
Mr Suwali said it was clear from the law that a police or army uniform or indeed any regalia that resembles an official security uniform was a serious offence punishable by law.
"I wish to sound a timely warning to members of the public regardless of their standing in society to refrain from wearing official uniforms or any dress that resembles official uniforms to leave that to our men and women in uniform who have been trained and sworn-in to wear such regalia," Mr Suwali said.
Mr Suwali said that it was sad that some criminal elements had taken advantage and committed aggravated robberies and other grievous offences while wearing such official uniforms and impersonating service personnel.
He implored members of the public to report to the  nearest police station any person seen wearing  official security regalia or attire.