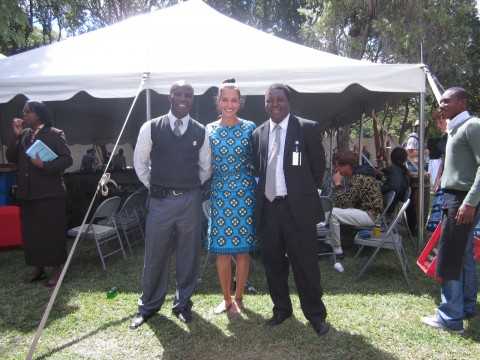 Transportation in this country is one thing that gives us PCVs probably the biggest headache, mostly because we travel around, a lot. Constantly traveling across a developing country can be difficult. There are several different ways we volunteers get around, none of which are very glamorous.
The first is by our PC issued Treck mountain bikes. Riding a bike every day and having a bike be my main source of travel had me worried before I came. I hadn't ridden a bike for years and years before I arrived in Zambia. I am happy to report that I am now a biking machine. On the day to day I don't cycle that much because I live only 10 km from town and that's really how far I have to go most days to buy groceries and see counterparts. However, for the holidays three friends and I went on a bike trip and covered over 200 km across Northwestern Province.
My mountain bike, to American standards, is pretty middle of the line as far as mountain bikes go. But compared to my neighbors' bikes in the village I ride a Ferrari. I have by far the nicest bike around and boy oh boy do the villagers love it. The kids take it to fetch water for me. All of our bikes have bike carriers which is one of the most valuable things I own in Zambia, apart of course from the bike itself. I carry groceries and packages home from the BOMA on it. That's how I carried my cat back to my house when I got it. When my bike is out of commission I get rides on the back of Zambian bikes. They're so pro at carrying people on their bikes. It's very impressive. Oh and in case you ever find yourself in that situation, side saddle is way easier than riding with one leg on each side. Just so ya know.
Buses are another major way we travel. There are 2 types of buses in this country: charter buses and mini buses. Charter buses (or some call them luxury buses) are exactly like greyhound buses and it's the easiest way to travel most times but it also can be expensive, for our stipend. Actually from Solwezi to Lusaka (an 11 hour bus ride) is less than $40. Some of the charter buses are nice and some are not so nice. I've had a whole row to myself and I've snoozed the entire way and bus drivers give me discounts and special treatment then I've also had to wait until the middle of the night for my bus to arrive and I've had cockroaches crawling on me. You get to know the good lines and the bad lines, when to take buses and when to avoid them. Mini buses have mixed reviews among volunteers. Some loathe then and refuse to take them but most tolerate them when we have no other choice. There are large mini buses which are my favorite type of bus, but they're not as common. Then there are the regular, small, dreaded blue and white mini buses. In Lusaka this is the way to get around in the city. It's usually really comfortable since people within the city might only have their purse, backpack or shopping bags and no one is really going very far. These small mini buses also do long trips as well and that is a situation you do not want to find yourself in. A bus that should hold 10 adults comfortably will cram in 30 and all their luggage, you hope the windows open but usually they don't and you can bet on either a crying baby(ies) or someone with some REALLY bad BO…or both. It's one of those experiences you just have to laugh at and try to sleep through or else you'll probably try to throw yourself out of the moving vehicle. And of course, doing it with a buddy makes it much more tolerable.
Hitchhiking is not only common in Zambia but Peace Corps allows it. They'd much rather us take a bus but we're allowed to hitchhike if we need to. Some volunteers only hitchhike because of the cheaper prices and novelty of it. That's why I hitch. You and I say hitch a ride but Zambians say hike a lift. I still say hitch. Unlike America, hitchhikers are always expected to pay a small price although there are plenty of people willing to give free lifts, especially to us white people in exchange for some good conversation. We don't use our thumbs here instead we hold our arms out with our hand straight and your palm facing the ground and then you wave at cars with your hand up and down bending at the wrist. There is subtle skill to hitching in Zambia and some volunteers are better at it than others. I'm not a very good hitchhiker but others are natural born Sissy Hankshaws. I get by though. I prefer hitching as well because it's usually cheaper, the cars that pick you up are usually nicer and if you woo your driver with good conversation there's a good chance they won't charge you. Plus, the best stories come from hitchhiking. No one wants to hear the story, "one time I got on a bus and then after a while I got off again". Boring. Just like PCVs love to share details about our most recent illnesses we love to swap war stories of our adventures on the road. And just like joining The Club is a rite of passage here, having an epically horrible day hitching is as well. Mine happened a couple months ago. I was leaving a town called Serenje which is where the provincial house for Central Province is located. I was trying to make it from Serenje to Solwezi in a day. The journey is about 10 hour car ride I think. I've never done it in one shot so I don't know for sure but I do know that it can be done fairly easily in one day, I had done it before. The town of Serenje is a couple of km from the highway so thankfully I was picked up and driven to the junction and didn't have to walk the 2-3 km. The same men said they'd give me a ride to Kapiri (the next junction 4 hours away) but they had to drop off some fuel down the road if I wanted to come with them and waste a couple hours. The truck was comfortable, the guys were friendly, and it was only 6am so I agreed to run the errand with them. Well, the person they were dropping the fuel off to was one of their brothers whose semi-truck was broken and had to be fixed and of course the guys in the car helped him fix it while I sat in the back of their car…for 5 hours. I didn't get back to Serenje until noon and had covered zero ground. I got on a big mini bus, comfortable but slow to Kapiri. It probably stopped every 20 minutes. At Kapiri I found a ride fairly quickly but I already knew I was so behind I wasn't going to get into Solwezi until pretty late. Some police officers picked me up and I rode in the bed of their truck to a large town called Kitwe. I don't like Kitwe. For some reason unknown I always have a hard time getting out of Kitwe. It was t-minus 30 minutes until it was dark and I still had about 4 hours still ahead of me. It was too late to try to hop on a mini bus and far too late to hitch so a man coaxed to buy a ticket from the charter bus coming up from Lusaka and going to Solwezi, I would just hop on in Kitwe. It was coming in an hour and then I'd be on my way, simple enough right? Well, then I realize which bus line I bought my ticket from: Ticklays. The worst bus line of them all and I knew my journey was far from over. What was supposed to be an hour wait turned into a 5 hour wait on a cold bench in a bus terminal with too many drunks stumbling around for my taste. Thankfully there were about 10 other Zambians waiting for the same bus who were just as upset about the whole situation as I was. After an incredibly uncomfortable and crowded bus ride on a bus I was sure was going to fall apart in mid-transit I finally arrive in Solwezi at 4am. Thankfully a man waiting for his friend on the bus gave me a lift home. Zambia won that day. Zambia won big time.
The final mode of transportation is the favorite among PCVs, the crème de la crème of all transport options. Better than flying down a hill on your bicycle, better than spacious buses, better than free hitches: Peace Corps cruisers. If you're lucky enough to time your travels right and the PC vehicles have room in them and the drivers are nice enough to take you it is a very very good day. When that happens you can be sure to count it as me: 1, Zambia: 0.
There are many days here I miss my car, or really any car I can jump into any time and go. But for the time being I'm enjoying the adventure of Zambian transportation, anyway it comes.
"For my part, I travel not to go anywhere, but to go. I travel for travel's sake. The great affair is to move." – Robert Louis Stevenson