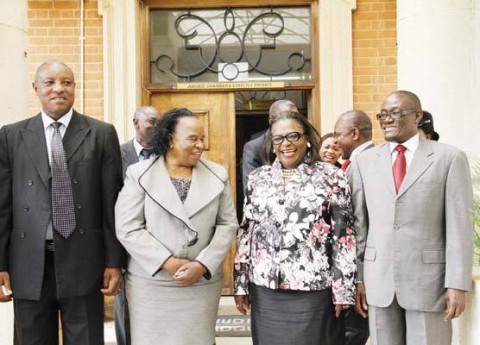 A twenty member commission of inquiry on the Legal and Justice Sector Reform Programme has been sworn-in at ceremony held in Lusaka this morning.
The Commission is being chaired by Justice Frederick Chomba with Solicitor General Musa Mwenye being the vice chairperson and Mrs. Maria Kawimbe as the secretary.
Members of the commission include Director of Public Prosecutions (DPP) Mutembo Nchito, Transparency International Zambia (TIZ) President Lee Habasonda, Enoch Mulembe, Emily Sikazwe, Stephen Mumbi, Mike Pwete, Geoffrey Sakulanda, Patrick Chisanga, and Annette Chirumba.
Others are Florence Chibwesha, Anderson Ngulube, Ernest Ibeele, Doris Nayame, Collins Lundah, Kangwa Chisanga, Ireen Chongo, and Frederick Chilukutu.
And speaking shortly after she sworn-in the commission, Acting Chief Justice Lombe Chibesakunda expressed confidence that members of commission will work tirelessly to scrutinize the country's Judicial and legal systems by finding out whether the systems have responded to Zambia's political, economical and social needs.
Justice Chibesakunda says if the country's Judicial and Legal systems have not responded to Zambia's needs, the commission should bring out the change for efficient and effective administration of Justice.
She states that this is especially that 50 years of independence the country still has a replica of English law structure when its history and culture is different from that of England.