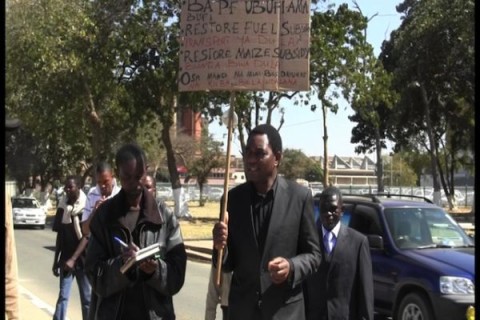 The Consortium of civil society organizations championing the Black Friday movement has called upon its members to revive its campaigns and add to the pressure that is now surrounding the constitutional making process.
This follows the pressure that has been observed from opposition Members of Parliament who in the past two days have disrupted Parliamentary proceedings over lack of clarity in the Ministerial Statement which Justice Minister Wynter Kabimba gave in Parliament on the way foreword as regard the enactment of the country's new constitution.
Black Friday Consortium chairperson Macdonald Chipenzi says in view such pressure and efforts that opposition Members of Parliament are making Black Friday members should also start wearing Black every Friday until government delivers a new constitution.
Mr. Chipenzi has told Qfm news in an interview that his Consortium also appeals to the people in the country to realize that this time in which a new constitution is being demanded for is also a time of mourning as the nation looks forward to the Jubilee Celebrations this year.
Mr. Chipenzi who is also Foundation for Democratic Process (FODEP) Executive Director notes that this is in view of the fact that having a new constitution at a time that the country is going to celebrate its 50 years of independence from colonial rule appears very bleak.
He says it is for this reason that people in the country should demand that the constitutional making process be concluded before the Jubilee celebrations in October this year.