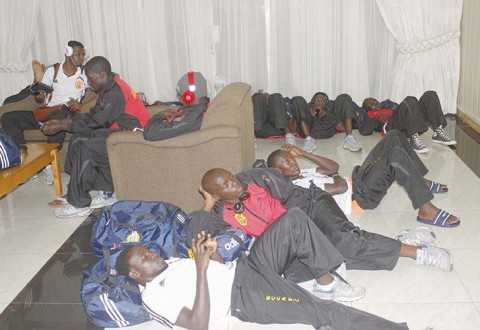 NKANA's opponents in tomorrow's 2014 CAF Champions League first round first leg Kampala City Council Authority (KCCA) are not happy with the decision to accommodate them at Edinburgh Hotel in Kitwe.
And the match between Nkana and KCCA has been moved to Kitwe's Arthur Davies Stadium from Nkana Stadium.
KCCA delegation leader Mpiima Samuel said in Kitwe yesterday that the surrounding near Edinburgh Hotel are noisy.
Samuel, who is also Federation of Uganda Football Association (FUFA) executive   committee member, said it is unfair for KCCA to be accommodated in a noise environment.
He, however, said his team is not distracted by the off-the-pitch incidents.
"We should have been accommodated at a standard five star hotel. This place is too noise because of its location. We're here to win and we'll not be deterred by these off-the-pitch issues," Samuel said.
On Nkana's hospitality, Samuel said his team has been well received at Lusaka's Kenneth Kaunda International Airport on Wednesday.
"The reception has been good. The only problem we have is the location of where we are accommodated. We'll see how we'll be treated during and after the match on Saturday," he said.
KCCA board member Hamid Juma was equally upset with the accommodation, said his club.
"They are coming to Kampala but we will not accommodate them in a noisy place. We will give them the best accommodation and hospitality. This place is not suitable for sportsmen because of the irritating noise coming from outside Edinburg Hotel," said Juma, a FUFA committee member.
KCCA trained at Nkana Stadium in the morning and another session in the afternoon.
The Ugandans will today have a feel of Arthur Davies Stadium.
Nkana secretary Kenny Mwansa declined to comment on the issues raised by the Ugandans.
On the shifting of the match, Mwansa said it was necessitated because of a technical problem.
"We have moved our match against KCCA to Arthur Davies Stadium because of a technical problem at our Nkana Stadium," he said.
And Nkana coach Masautso Mwale has declared his team ready for the match.
Mwale said the technical bench has done its part and that it is now time for players to deliver.
"We're ready for the match and all players are looking forward to the match against KCCA. Our aim is to win on Saturday," Mwale said.
Meanwhile, gate charges for the Nkana's match against KCCA have been pegged at K150 for VIP, K100 grand stand and K20 for open wing.