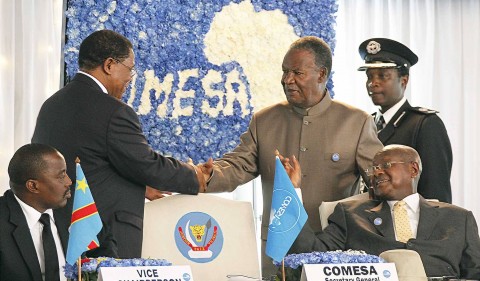 PRESIDENT Michael Sata has called for more efforts towards industrialisation and job creation in order to increase economic growth and reduce poverty in the region.
Mr Sata said Micro, Small and Medium Enterprises were vehicles of economic growth which has formed the bedrock of economic activities in most Common Market for Eastern and Southern Africa (COMESA) member States.
The Zambian Head of State said this when he gave a keynote speech at the 17th COMESA Heads of State and Government here.
"Micro, Small and Medium Enterprises (MSMES) have, for some time, formed the bedrock of economic activities in most of our countries and your Excellencies will agree with me that MSMES have, therefore, been vehicles of growth in our economies," he said.
The theme of the summit is: "consolidating Intra-COMESA Trade through Micro, Small and Medium Enterprise Development."
Mr Sata however said structural and operational rigidities, low production and productivity coupled with inadequate access to inclusive financial services had continued to restrict the growth of MSMES in the region.
He said it was good to note that despite the challenges, a number of indigenous business initiatives had sprung up from the COMESA group of entrepreneurs.
"We, therefore, need to step up our efforts to empowering this sector in order to contribute towards industrialisation and job creation so as to increase economic growth and thereby accelerate the process of regional integration and hopefully minimise the incidence of poverty," Mr Sata said.
Mr Sata further said the challenges encountered in the quest of the region's desired levels of integration, especially the promotion of intra-COMESA trade, were not insurmountable.
The President said trade facilitation called for vigorous efforts necessary for addressing supply side constraints which had been hindering the growth of the industrialisation pillar under the tripartite framework.
Mr Sata told the gathering that he had noticed with discomfort that although the COMESA free trade area was launched a few years back, it had only grown by less than seven per cent largely due to the fact that most member states depended on exports of similar primary commodities.
He called on the member States to start developing value adding industries to increase prospects of ever increasing the intra-COMESA trade above seven per cent.
Mr Sata disclosed that Zambia had at national level embarked on a number of initiatives to grow the MSMES.
He said his Government had continued to create linkages at the regional and global levels, for the MSMES to realise their potential to create sustainable mechanisms for building export capacity among others.