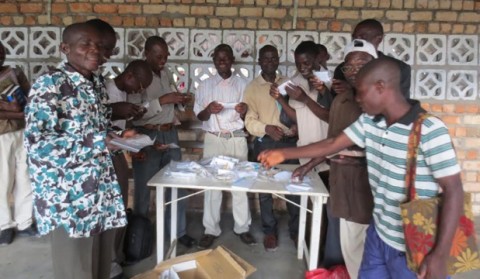 People living in a small village in a north-western province of Zambia in Southern Africa are now getting a clearer view of their world thanks to the generosity of Waitaki residents.
A shipment containing more than 300 pairs of eye glasses was recently sent to Ikelenge village by Visique Oamaru as part of the optometry company's campaign to help people living in Southern Africa who are visually impaired and have limited access to healthcare.
Visique Oamaru owner Dave Roberts first became aware of the lack of eye care available in the region when speaking to Oamaru woman Sandra Meikle, a nurse who now lives in Ikelenge.
"I was talking to Sandra at our local church and asked her about the region's health care situation, which she said was very poor," Mr Roberts says.
"This particular village is located a few days drive from the nearest main centre."
Ms Meikle delivered the glasses to the villagers in late January and says they were delighted by the gifts, which she described as a belated Christmas present.
"The looks on their faces when they can see without having to stretch their arms too far out is wonderful. Access to professional eye care is very limited in the region and it's an emotional experience being able to improve people's eyesight for the first time.
"Many who have suffered from poor vision are amazed that they can see again. It completely changes their quality of life."
Mr Roberts says he's overwhelmed by the kindness of residents around Waitaki and says the campaign has provided an opportunity not otherwise available to those living in one of the poorest regions in the world.
"There are many more in the region who could benefit from this campaign and we are again asking for donations from the community."
Ms Meikle has also praised those who donated glasses.
People who would like to donate glasses are encouraged to take them to Visique Oamaru at 413 Thames Highway.