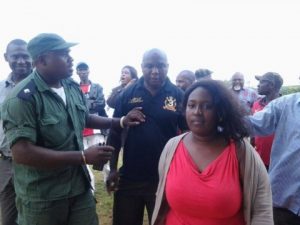 SUSPECTED United Party for National Development (UPND) cadres yesterday allegedly attacked and beat up Northern Province Minister Freedom Sikazwe in Katuba while he was visiting polling stations for the by-election.
Police yesterday picked up six people in connection with the violence which also left some Patriotic Front cadres injured in Muchenje.
Mr Sikazwe and UPND Katuba parliamentary candidate Jonas  Shakafuswa confirmed the incident, which happened at Chifwankula polling station around 10:00 hours.
"I survived lynching, I was almost killed," Mr Sikazwe said.
He accused UPND leaders of allegedly planting cadres around Chifwankula and inside the polling station.
Mr Sikazwe said when he inquired about the presence of UPND cadres at the polling station, he was told that they were polling agents.
He narrated that while he was about to leave, he saw three Toyota Land Cruisers carrying cadres armed with screwdrivers and other weapons.
"The situation was so bad that if it were not for one guy who had a gun and shot twice in the air, I would have died. I don't even know that guy. So, that is how I ran away," Mr Sikazwe said.
He said he later called the police to deploy reinforcements to prevent loss of life because the situation was volatile.
He said the incident happened in the presence of Pemba member of Parliament (MP) Mutinta Mazoka, Kalomo MP Request Muntanga and other senior UPND members.
When contacted for a comment, Mr Shakafuswa said UPND officials went at the police station and that the fighting had stopped.
"I don't know, I just know that there is some ceasefire there," Mr Shakafuswa said.
Mr Sikazwe said he reported the matter to Kabangwe Police Station before leaving the area.
Earlier, Mr Shakafuswa's daughter, Louise, was confronted by suspected Patriotic Front (PF) cadres in Kabangwe on suspicion that she was distributing money to voters.
On the alleged harassment of his daughter, Mr Shakafuswa said: "How can they disenfranchise my daughter. I will instruct my youth on all the roads to beat up these PF cadres. There is only one road that leads to Lusaka [Great North Road].  We will block it so that they have nowhere to go and beat them up."
Central Province commissioner of police Standwell Lungu said he had not yet received a report on the incident.
Meanwhile, Alliance for Better Zambia (ABZ) Katuba parliamentary candidate Patricia Mwashingwele was yesterday turned away from voting because she did not have a voter's card.
Ms Mwashingwele arrived at Moomba Polling Station around 10:25 hours and she realised that she had forgotten her voter's card when she was about to vote.
Ms Mwashingwele, who was accompanied by some supporters, asked if she could vote using her national registration card (NRC) but she was not allowed to do so.
"Can I vote using my NRC? I know that my voter's card is there," she pleaded.
But assistant presiding officer Joseph Kanyanta told Ms Mwashingwele that it was not possible for her to vote using an NRC and asked her to leave the polling station.
Ms Mwashingwele promised to return later with her voter's card.
National Revolution Party candidate Shakespeare Mwakamui said he was confident that he would win the election.
"I know that they will vote for me. By midnight today [Tuesday], they are going to declare me as a winner. I have no problem here; people love me,"
Mr Shakafuswa voted around 09:30 hours at Kabangwe Polling Station.
He commended party members for being "peaceful".
PF candidate Moses Chilando had not yet voted by press time while MMD's Cecil Holmes did not vote because he registered in Chisamba.
National Restoration Party (NAREP) candidate Joseph Mushalika voted around 06:30 hours at Namununga Polling Station.
Meanwhile, voter apathy  characterised most polling stations.
At Moomba, 201 people had voted out of 1,018 registered voter while few voters queued to cast their ballots.
Presiding officer Boniface Kasheta said: "The voting is just okay, but it is a bit slow looking at the total number of voters we have".
At Muwanjuni Polling Station, 350 had voted by midday out of 2,085 registered voters.
"We expect progression in the turnout of voters as the day goes by," presiding officer at Muwanjuni, Edward Phiri, said.
The Katuba seat fell vacant following the death of MMD's Patrick Chikusu.