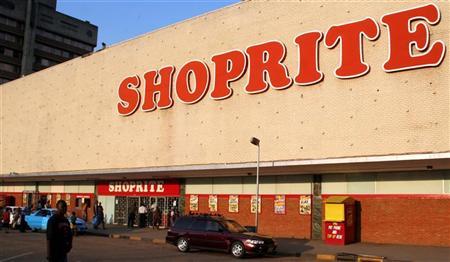 South African retailer Shoprite posted an 8 percent rise in first-half profit on Tuesday, reflecting slowing growth as debt-laden consumers in its home market cut back on spending.
Shares in Africa's biggest grocer tumbled 3.4 percent to 138 rand by 0858 GMT, the lowest level in nearly two years and lagging behind a slightly lower JSE Top-40 index.
Shoprite, which also runs stores in Nigeria, Mozambique and Zambia, said headline EPS totalled 341 cents in the six months to end-December, compared with 315.9 cents a year earlier.
Its headline EPS increased by 12.5 percent in the same period a year ago.
Headline EPS, the most widely watched profit measure in South Africa, strips out certain one-off items.
Sales rose 9.7 percent to 51 billion rand ($4.7 billion)with sales from its sub-Saharan outlets surging by about a third – more than three times the growth rate at home.
"What these numbers are telling you is: the consumer environment is incredibly tough in South Africa," said Reuben Bleeders, an analyst at Gryphon Asset Management.
Overstretched South African consumers are cutting back on spending, forcing retailers to look to the rest of Africa to boost returns. But it is not all rosy in key markets such Zambia and Nigeria, due to heavy regulation and a poor supply chain infrastructure.
Shoprite pulled out of Tanzania earlier this year without giving reasons. It also agreed to a hefty pay increase late last year for its Zambian workers after authorities in the southern African country threaten to revoke its trading license.
Rival Woolworths quit Nigeria late last year, citing difficulty in marketing its products and shoddy supply infrastructure.
"The board does not expect any improvement in the trading environment within South African in 2014," Shoprite said. "At the same time our business outside the borders of the country continues to flourish." ($1 = 10.8545 South African rand) (Reporting by Tiisetso Motsoeneng; Editing by David Dolan)