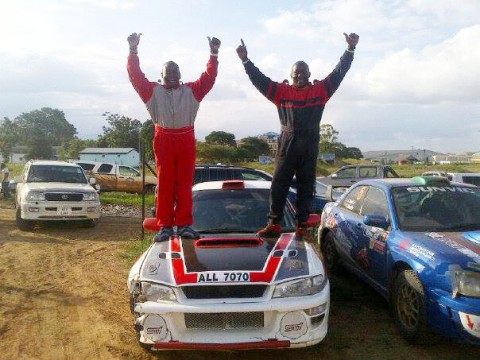 GEOFFREY Chulu and his younger brother Lastone on Sunday won the first round of the national rally championship beating African champion Jassy Singh and defending champion Ken Mukosa.
The Chulu brothers powered their Subaru Impreza GC8 to victory taking the laurels by 38 seconds at Chisamba's Graham Rae Farm.
Geoffrey was in the driving seat while Lastone was a co-driver.
They scored a total time of 1:08:16 ahead of second-placed Jassy with debutant co-driver Sajid Khan.
Jassy and Khan in their Subaru N10 survived a scare after their hole drive shaft broke and nearly caught fire.
The defending African champion pulled through to finish the race on 1:08:48, 19 minutes ahead of his younger brother, Muna junior.
Muna in his Subaru N10 grabbed the final podium slot.
Essa who emerged victorious in the 4-kilometre qualifying stage missed holding in after stage four, hence being disqualified.
Mukosa crashed out in stage two after his car overheat.
Other victims that crashed out are Dani Beaini, Chimanga Biyela, Kumaren Naidu and Miles Monge.
Only nine out of the 15 drivers that started the rally managed to get to the finishing line.
Other drivers that finished the race are Farook Ticklay, Yazdaan Ticklay, Toofail Dalal, Shabbir Amin, Azim Ticklay and Noel Masadza grabbing the fourth, fifth, sixth, seventh, eighth and ninth positions respectively.
Daily Mail