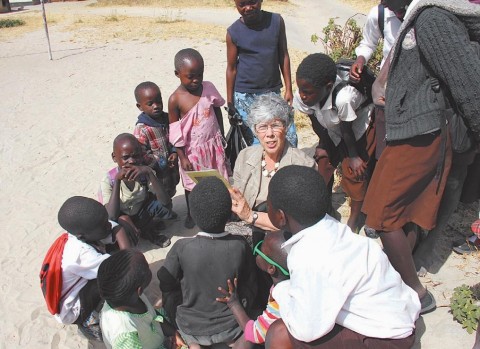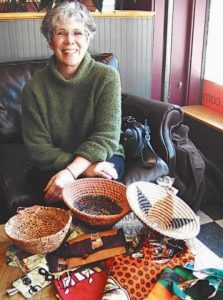 Having once experienced the bright culture and overwhelming hospitality of Kaoma, Zambia, Joanne Bollinger of Brunswick said she knew she had to go back — and she wasn't going to let turning 68 this year stop her.
Bollinger, a resident of the Thornton Oaks retirement community, went to Zambia for a two-week trip last June to volunteer through the nonprofit organization Women Initiatives that Strengthen and Empower, founded in Maine.
Bollinger is planning a return trip this summer.
"As long as I can walk five miles a day, I plan on going back," Bollinger said, adding that teams of WISE volunteers usually make two annual trips to support the nonprofit's projects there.
Bollinger will be sharing stories of her experiences volunteering in Zambia at Thornton Oaks on Tuesday, Feb. 25 at 3:30 p.m. The talk is free and open to the public.
"I was hooked — I just fell in love with the people there," Bollinger said. "They aren't interested in material things, they're interested in better health and education."
Promoting better health and education are the centerpieces of the Kaoma WISE Trust, established by WISE to fund several ongoing projects, including founding a Women's Center, supporting a grade school, funding clean water projects, providing educational scholarships, and sponsoring an orphanage.
But that's not how it started. It started when a group of women from the Waterville area — who out of a sense of humility deliberately obscure "who did what when" — traveled to Kaoma to build houses with Habitat for Humanity.
Zambia is a landlocked country in Subsaharan Africa with a national population estimated at 14.3 million. According to the World Bank, the gross national income per capita is estimated at $1,160. UNICEF reported in 2012 that 69 percent of the population live below the international poverty line.
"They saw what a horrible situation some of the women were in there — disadvantaged, abused and abandoned women," Bollinger said.
There was one woman in particular who stood out to the WISE founders, who "seemed so capable," Bollinger said. Her name was Margaret Mundia and she had been kicked out of her hut by her husband and left alone to care for their eight children.
Lynn Twitchell, Cindy Fuchswanz and Amanda Robinson were among the WISE founders responsible for initial fundraising and registering as a nonprofit, making donations to the organization tax deductible.
First they established the women's center, now headed by Mundia. The purpose of the center is to train women in life skills, including basic management of financial and health matters and English language training. Anything, Bollinger said, "they need to help themselves live a slightly better life."
WISE has also purchased a hammermill for the center, so that women would be able to grind the local maize into "mealie meal," which Bollinger said is a staple of the national diet. Women at the center are now able to cook with this meal as well as sell it for profit.
It hasn't always been smooth sailing though, Bollinger said, and the group has faced significant push-back from the local government in former years.
"The government is run by males, and the males in charge don't particularly care for women doing business," Bollinger said, "and they especially don't like the women doing it on their own."
Bollinger described Kaoma as a small town in western Zambia with approximately 15,000 people. It has one paved road and a couple other main roads lined with shops and markets. She said the local school is in the poorest part of town.
When WISE approached the town government about establishing a women's center, the only land they were allowed to build on was 4 miles outside of town.
"There's no public transportation, so if people want to go there they have to walk," she said, noting that few people had cars.
One of their most welcomed endeavors is "The Whiteboard Project," Bollinger said. WISE arranged for whiteboards to be placed in every room of Sishekanu Basic School. The school serves grades one through nine and has as many as 50 students per classroom.
The school's blackboards were in such poor condition they were nearly unusable, Bollinger said.
"We put the whiteboards up on a Saturday, and the teachers were just so thrilled when they could write and erase," she said.
The students at Sishekanu didn't know that the whiteboards had been installed until they came to school the following Monday.
"The kids were so wide-eyed," Bollinger said. "I remember one boy in the 7th grade just exclaimed, 'Wondrous!' They just couldn't believe that it could be so easy." She added that WISE has arranged for a regular supply of markers to be delivered to the school.
It takes very little to make a vast difference, Bollinger said, noting that a donation of $30 sponsors an orphan for a month, a $50 donation gives a student school supplies for a year, and $400 covers a high school scholarship for a student for one year, including room and board if the student lives remotely from the school.
In her brief time there, Bollinger made lasting friendships, including one with a young orphan named Juliet.
"Juliet still sends me letters," she said. "They are so sweet and so earnest. The last one said, 'I miss you. If I don't meet you again here, I will meet you in heaven.'"
Bollinger's presentation will be held at 3:30 p.m. on Tuesday, Feb. 25, in the Merrymeeting Room at Thornton Oaks, at 25 Thornton Way in Brunswick. She will be selling goods made at the women's center in Kaoma to support WISE projects.
For more information about the presentation or to purchase products from Kaoma to support WISE, contact Joanne Bollinger at 725- 6236. For more information about WISE visit www.wisezambia.org.