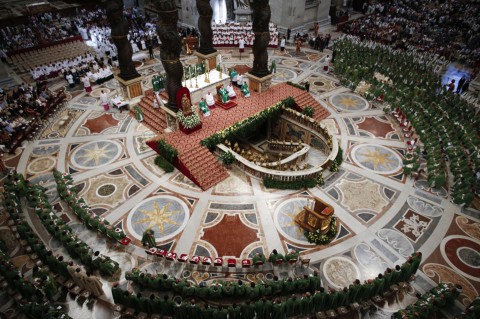 Pope Francis on Monday announced the first major overhaul of the Vatican's outdated and inefficient bureaucracy in a quarter-century, creating an economics secretariat to control all economic, administrative, personnel and procurement functions of the Holy See.
Australian Cardinal George Pell was named prefect of the new economics secretariat. He reports to a new 15-member economy council made up of eight cardinals reflecting various parts of the world and seven lay experts. The aim of the new structure, the Vatican said, is to simplify and consolidate the existing management structures, improve oversight, internal controls and transparency — and provide more support for the Vatican's works for the poor.
The change, announced in a press release, represents the biggest reshuffling of the Vatican's organization since Pope John Paul II in 1988 issued the apostolic constitution, Pastor Bonus, the blueprint for the Holy See's various congregations, pontifical councils and offices.
The change appears to significantly weaken the Vatican's powerful Secretariat of State, which previously had administrative control over the Holy See while also handling diplomatic relations. That the new entity is called the Secretariat of the Economy would suggest some sort of hierarchical parity with the Secretariat of State.
The new body covers the finances of the Holy See — the central governing structure of the Catholic Church — and the Vatican City State, the 44-hectare city state in central Rome which includes the profit-making Vatican Museums and Vatican's post office.
An auditor will be empowered to conduct audits of any Vatican agency, at any time, the statement said.
Francis appointed a commission of inquiry last summer to recommend ways to improve efficiency and transparency and reduce waste. Last week, with Francis' Group of Eight cardinal advisers present, the commission reported its findings.
The pope has yet to announce any decision on the findings of the other commission of inquiry, concerning the scandal-marred Vatican bank. That commission also presented its recommendations to the G8 and pope last week.