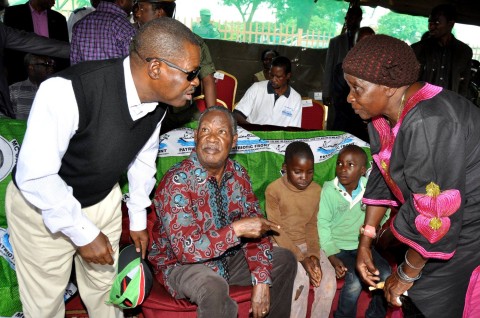 Vice President Guy Scott has cautioned the people of Katuba not to vote for dead political parties that cannot be resurrected because they have nothing to offer.
Dr Scott said that the MMD is a dead political party that is beyond resuscitation and has become irrelevant to the needs and aspirations of the people.
The Vice President was speaking when he addressed hundreds of Katuba residents during campaign rallies he held at Kabile, Stumbeko and Chitantula in Chibombo District to drum up support for the PF candidate Moses Chilando in the February 25 Katuba parliamentary by-elections.
He told the crowds that rich countries in the world have developed and were developing because they do not have racism and tribalism.
Dr Scott beseeched the electorate to give the PF an MP they can work with to facilitate construction of roads, schools and heath infrastructure in the area.
He said President Michael Sata wants Zambia to be a model of an all-inclusive government that does not care about tribalism but just wants to work to develop the country under peace and unity.
And Southern Province Minister, Daniel Munkomwe, appealed to the electorate in Katuba not to allow a young child "mwana mushonto"  apparently referring to Hakainde Hichilema and the UPND to drag them into tribalism and cause tension among them.
Mr Munkombwe reminded the electorate that past leaders that hailed from Southern and Western provinces such as Mainza Chona, Nalumino Mundia and Kebby Musokotwane were not tribalists but worked to foster development in the country.
Meanwhile, PF campaign manager Edgar Lungu, who is also Defence Minister, urged the people of Katuba to desist from wasting their vote on the opposition but instead vote for Moses Chilando to work with the PF to bring development to their constituency.
And Health Minister, Joseph Kasonde, disclosed that the government programme of constructing 650 health posts and centres countrywide was a brain child of the late Dr Chikusu and the people of Katuba owe it to him to give the PF an MP to continue the work.
Other candidates vying for the seat are MMD's Cecil Homes, UPND's Jonas Shakafuswa, UNIP's Friday Malawo, National Restoration Party's Joseph Mushalika, Alliance for a Better Zambia's Patricia Mwashingwele and National Revolution Party's Shakespeare Mwakamui.
The seat fell vacant following the death of MMD Member of Parliament, Patrick Chikusu, who was also deputy minister for health.