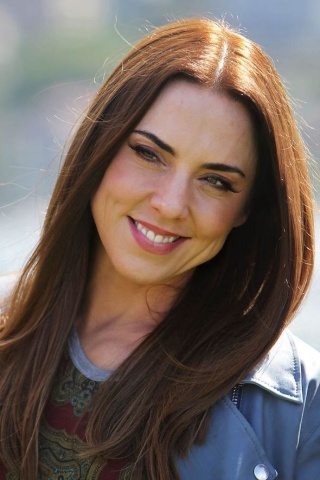 FORMER Spice Girl Melanie Chisholm, aka Mel C, has recently starred in a number of musicals, including Blood Brothers and Jesus Christ Superstar. She turned 40 last month and lives in London with her daughter, Scarlet, who celebrates her fifth birthday today.
What made you decide to get involved with the P&G and Asda campaign for clean drinking water?
After going to Zambia for Comic Relief last year, it really opened my eyes seeing such terrible poverty first hand. We take being able to provide our children with clean water for granted, but unfortunately it's still a problem for more than a billion people around the world – 2,000 children die every day because of diseases they get from drinking dirty water. Water purification sachets are so simple and save lives. We can all help by buying certain P&G products as part of the weekly shop from Asda, and they'll donate a day's worth of clean drinking water.
Do you think more celebrities should do charity work?
Most celebrities I know are approached constantly to help charities and the hard thing is saying no because there are so many worthy causes. Since I've become a mum, I've been a lot more sensitive about children's issues because kids are so vulnerable.
How else have you changed since becoming a mum?
Scarlet has made me happier. When the focus is taken away from you, it's liberating. Scarlet is the light of my life. She never fails to make me smile.
What's the best showbiz party you've been to?
Liza Minnelli and David Gest's wedding in 2002, where Michael Jackson was the best man and Elizabeth Taylor was matron of honour. Also, Courtney Love's birthday party in 1998 in LA with the Spice Girls.
Will the Spice Girls get back together again?
Victoria (Beckham) doesn't want to perform again but the rest of us talk about the possibility of doing something – if the right thing came along.
What is the worst job you've ever done?
It's either a summer holiday job I had when I was about 14 where I used to collect dirty sheets in an apartment block in Spain where my dad used to work, or working in a chippy. The chippy probably wins.
Will you do another stage show?
I had a really great time doing Jesus Christ Superstar but I've had to let that go because they're taking it to America for 14 weeks and that doesn't work with Scarlet. I'm touring with Jools Holland and his band again later this year and I want to spend a bit more time at home. I'd like to start writing again, too, and look at putting a new album together.
Melanie is supporting the P&G and Asda Clean Water Campaign to help provide 75 million days of clean drinking water to children across the world in 2014. From Thursday when you buy any P&G product in Asda or on Asda.com, P&G will donate one day of clean drinking water. Visit asda.com/cleanwater to find out more.