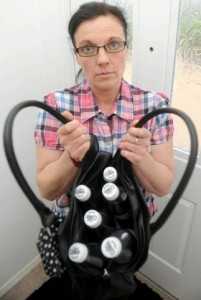 A MOTHER who has blown £150,000 on Diet Coke and drinks up to 10 litres per day of the soft drink has turned to a hypnotherapist to cure her addiction.
At the height of her habit Jakki Ballan drank almost 50 cans of Coke each day and spent £500 per month in an addiction that has lasted almost 30 years.
The mother of five, who claims to have now cut back on her fizzy drink cravings, first tasted Diet Coke when 14 and has been addicted ever since.
She suffers anxiety attacks when she does not have enough bottles at home and claims to have experienced hallucinations from drinking too much.
The 42-year-old, from Ellesmere Port in Cheshire, is now seeking medical help to conquer her demons as her addiction is "taking over" her life.
She said: "This addiction is taking over my life. I can't even go out of the house without making sure I've got enough Coke on me.
"I won't do the school run unless I have at least two 500ml bottles in my handbag.
"I am scared for my health. I want to be around to see my kids grow up. I dread to think what my insides look like."
Ms Ballan said her addiction became serious 16 years ago when she gave up full time work at a dry cleaners to look after her children.
She said she suffers from constant headaches and has started to see "strange things" which she has put down to her addiction to Diet Coke.
She said: "It was really scary as at first I didn't know what was going on. I see strange things like oranges flying across the room. Then I have to sit down and calm myself before carrying on.
"I am constantly tired, but all the caffeine I consume means I have trouble sleeping. So I end up sitting awake at night and drinking even more Coke. It's a vicious cycle I can't seem to get out of."
During the past year alone Ms Ballan has spent as much as £6,000 and that she rarely goes out shopping for herself and does not socialise.
However, she said her addiction has not affected her children.
Ms Ballan said: "I won't let my kids go without, but when it comes to my own needs Diet Coke comes first. It's as important as paying the electricity bills."