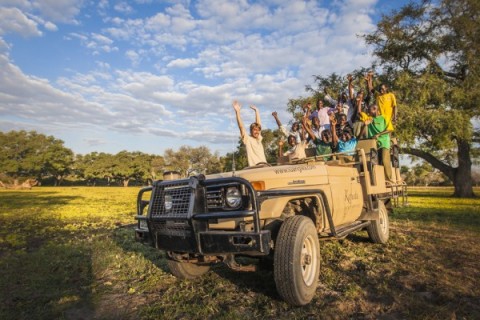 Camping up a tree on the banks of the Luangwa River gave us some idea of what it's like for Zambian villagers to live with wild animals.
On the edge of the South Luangwa National Park, our tent was set up on a tree platform at Flatdogs Camp, where elephants passed below us on their way to the water. In the Mfuwe area, most of the local children have never been on safari, but education is helping them to appreciate the wildlife on their doorstep.
Project Luangwa
Flatdogs is one of a group of safari lodges that are working together to benefit the local community through Project Luangwa. We stayed with four of the safari operators who are helping to educate children in the Luangwa Valley—Flatdogs Camp, Kafunta Safaris, Shenton Safaris, and Robin Pope Safaris. On our 12-day safari we went on walks and game drives in the park and visited some of the local schools with charity manager Karen Beattie.
Day 1 – 3: Flatdogs Camp
Flatdog is a name used by the local people for the Nile crocodiles that bask on the riverbank in front of the camp. We first came to Zambia a few years ago to visit my parents, who stayed at Flatdogs Camp for three months when my mother was the volunteer doctor for the Luangwa lodges. She not only looked after guests, but also ran the local clinic, where she treated a fisherman who lost both arms to a crocodile while catching fish to feed his family.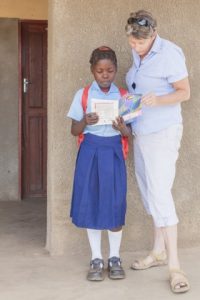 There is no longer a campsite at Flatdogs, so this time we stayed in a safari tent already set up for us on the ground. The camp sits at an elephant crossing point where herds move in and out of the park across the river, and we were woken in the night more than once by elephants foraging for food outside our tent. In the local villages, elephants have been known to destroy a year's worth of maize in one night, leaving families struggling to find enough food.
Flatdogs, the closest camp to the park entrance, is where lodge owners, guides and safari-goers come together to share bush stories. We didn't go on any game drives, spending most of our time with Karen learning about Project Luangwa and the schools they support. Instead, we sat by the pool watching the hippos and crocodiles in the river and visited the market stalls in Mfuwe, playing games with some of the local kids on the dusty street.
Community Projects
Our first stop was Chiyembekezo Pre-school, where camp owner Ady and his wife Jess pay local teacher Dailes Lungu's salary. Schooling in Zambia is no longer free after grade 8, and without support many children drop out because their families can't afford the fees. Students at Chiyembekezo, meaning 'hope', are either orphans or come from poor families, and would otherwise be playing on the street or fishing in the river during school hours.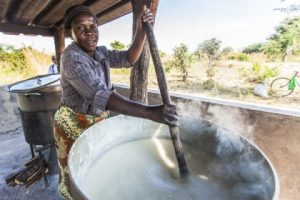 Project Luangwa matches sponsors with children so they can continue their education and follow their dreams of becoming doctors, teachers and wildlife rangers. At Mfuwe Day Secondary School, the head girl, Agnes Njobvu, and head boy, Frencious Tembo, have both been sponsored through their school years. Without sponsorship, many students wouldn't finish school, let alone get to the top of their class and even go on to further study.
School cook Mrs. Mabao makes lunch over an open fire at Mfuwe Day Secondary School. (Photograph by Marcus and Kate Westberg)
Day 4 – 6: Kafunta Safaris
At Kafunta River Lodge, part of the job for camp manager Mario Vos was to take local children out into the bush. Just outside Mfuwe, the lodge is owned by Ron and Anke Cowan, who drove through the Luangwa Valley in the early 1990s and simply never left. The Cowans have made South Luangwa their home, living at the camp and raising their son Luke, who grew up playing soccer with the local kids, to love the Zambian bush as much as they do.
Our first game drive was with local guide Josephat Msoni who has been with Kafunta since the lodge first opened its doors. The park is reached by crossing the river in a hand-pulled pontoon past a large pod of hippos and driving into the bush on the other side. On the drive we saw bushbuck, impala, buffalo, Crawshay's zebra, and Thornicroft's giraffe, some of the wild animals that kids from the local villages have never seen.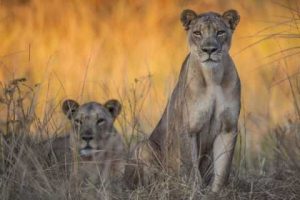 The next morning, Mario took us on a three-hour drive through the park to the remote Island Bush Camp, rebuilt each year after the floods. We went on a walking safari with Josephat, following tracks in the sand to a pride of lions, another animal that many local kids have only heard stories about. Back at camp, we washed off the dust with a bucket shower and sat around the campfire as a herd of elephants crossed the Luangwa River at sunset.
Community Projects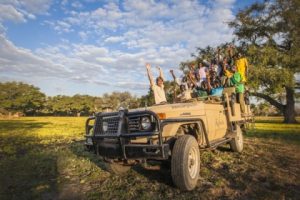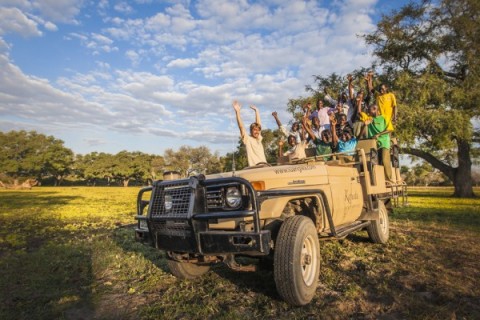 Despite living on the edge of a game park, many of the children in Mfuwe have never been game-viewing. Working together with Project Luangwa, Kafunta invites groups of kids to stay at Kafunta River Lodge, following an essay competition about conservation tourism in South Luangwa. With elephants raiding crops in their villages and crocodiles attacking fishermen in the Luangwa River, children are often afraid of wild animals.
Kids in the Wild gives around 25 sponsored students the chance to learn more about the wildlife in and around the park. Like us, the kids get to stay in luxury chalets, enjoy 3-course meals and swim in the pool, as well as going on game drives with guides like Mario. Spending time in the bush and interacting with scouts from the South Luangwa Conservation Society (SLCS) is an eye-opener for the kids and important for future conservation.
Day 7 – 9: Shenton Safaris
Derek and Jules Shenton own and run two specialised photographic camps: Kaingo and Mwamba Bush camps. We didn't actually stay at Kaingo as the one night we were there we had a sleep-out in an elephant hide, which brought back memories of sleeping in a tree last time. The hide sits on the banks of the river at a point where the Shentons have seen elephants coming to drink and take mud baths for as long as they can remember.
We fell asleep in the four-poster bed to the low rumbling of elephants as the moon hung low over the Luangwa River. Hides are a specialty at Shenton Safaris, where we spent time in the Hippo Hide and saw another hide anchored in the water, set up for when the Carmine Bee-eaters come to nest in the sandbank. Designed by Derek, the blinds allowed us to get up-close to the wildlife in ways that the local children couldn't do around their villages.
At Mwamba Bush Camp, we stayed in one of only three chalets near the Last Waterhole Hide. My grandparents were both teachers in Zambia and they used to bring my mother on safari in South Luangwa when she was a girl and teach her about wildlife. Camp manager and guide Brent Harris shared with my grandparents a sense of the connection between all living things, something that the local kids don't take long to understand.
Lilac-breasted rollers are one of over 400 different bird species in the Luangwa Valley. (Photograph by Marcus and Kate Westberg)
Community Projects
Shenton Safaris is a founding member of Project Luangwa and was involved in one of the first projects at Hanada. The Hanada Project was started by local woman Hilda Hampondo, who reached out to orphans in the Mfuwe area with nobody else to take care of them. With funds raised by Derek and Jules, a pre-school was built with daily lessons in an open-sided chitenge, now run by the community under local Chief Mnkhanya.
One of the vulnerable children that needed extra care was Veronica Lungu, who suffered from a goiter that made it difficult for her to eat and even breathe. Veronica, accompanied by her grandmother and Hilda, moved to Derek and Jules' house in Lusaka for several months to undergo treatment. She was kept in hospital for almost a month and, after a few close calls, the large growth was successfully removed and Veronica kept her voice.
Sponsorship makes students feel as though someone cares about them and their future. (Photograph by Marcus and Kate Westberg)
Day 10 – 12: Robin Pope Safaris
Our last stop was Nkwali Camp, which sits on Robin Pope's private land on a bend in the river. Nkwali was the second camp built by Robin and his wife Jo, who met in the Luangwa Valley and ran five other lodges in and around the park, as well as walking safaris with walk-in tents along the Mupamadzi River. Like my mother, Robin grew up in Zambia and spent his childhood playing in the bush with his binoculars and fishing rod.
Love of the bush ran deep in all of the people we met in South Luangwa and none more so than camp manager Keyala 'Kiki' Phiri. Kiki's story, born and brought up in Mfuwe and inspired by his father's job as a wildlife ranger, is just one of many that makes the work of Project Luangwa so important. The local kids look up to people in the community like Kiki and see that they can also study hard and make their dreams come true.
Unlike our experiences in Kenya's Masai Mara and the Kruger, we were alone at every sighting in the park, even when Kiki found a pride of lions with a buffalo kill. It was easy to see why South Luangwa is one of Africa's most celebrated parks, and what keeps Robin and Jo coming back. The Popes have stepped back from running the camps but they still have a house on the river and return often to visit the local schools.
Hippos and crocodiles pose a threat to local people who catch fish in the Luangwa River. (Photograph by Marcus and Kate Westberg)
Community Projects
In 2008, Jo approached some of the like-minded lodges in the Luangwa Valley about working together to support the local communities. Instead of having separate projects run by each camp, it made more sense to bring them together under one roof. Project Luangwa was born in 2009, and Karen and her husband Dave Hopson took on the daunting task of overseeing all of the different projects, from building classrooms to student sponsorship.
During the school holidays, Robin and Jo opened up their house next to Nkwali Camp for a Girls' Day with swimming, nail painting and trying on donated clothes. Girls have a harder time getting an education than boys, as they are considered less important and are expected to help out at home. Project Luangwa has started up Girls' Clubs at schools and Karen has found that the girls have more self-confidence and get better exam results.
The Girls' Club supports girls to face problems together in order to get a good education. (Photograph courtesy Project Luangwa)
Project Luangwa
Just as at Flatdogs Camp, we spent much of our time at Nkwali with Karen, this time on school visits. We went to eight of the twenty-five schools that are supported by Project Luangwa, seeing first-hand the work that has gone into improving education for local children. New classroom blocks, school libraries and hand-pumped boreholes for clean drinking water are just some of the ways that Project Luangwa is making a difference.
Students form a circle and perform a traditional dance at Katapila Community School. (Photograph by Marcus and Kate Westberg)
Our last stop was the Katapila Community School with its sports ground, tree-planting scheme and library stocked with donated books. Katapila has grown from 95 kids learning on grass mats, to over 400 students sitting at desks in new classrooms, the walls covered in pictures of wild animals. We just had to look at the smiling faces of the children surrounding us in the playground to see how schooling is making life in the Luangwa Valley.
All of the kids gave a helping hand at Katapila Community School to paint a tree mural. (Photograph by Marcus and Kate Westberg)
Marcus and Kate travelled with thanks to Robin Pope Safaris (www.robinpopesafaris.net), Kafunta Safaris (www.luangwa.com), Shenton Safaris (www.kaingo.com) and Flatdogs Camp (www.flatdogscamp.com).
Project Luangwa is supported by five safari lodges including Croc Valley Camp (www.crocvalley.com).
Project Luangwa: www.projectluangwa.org
South Luangwa Conservation Society: www.slcszambia.org
Follow Marcus and Kate on Facebook, Twitter or visit their website.