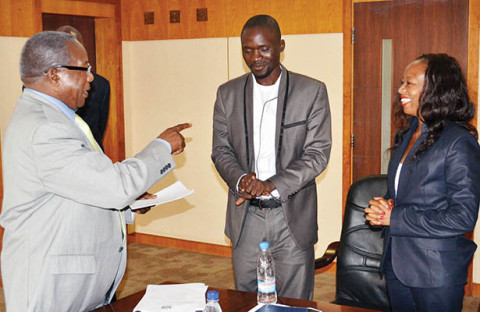 GOVERNMENT says K650,000 has been raised from the sale of holograms on audio-visual products sold in Zambia since the introduction of the technology last year.
Minister of Information and Broadcasting Services Mwansa Kapeya said during the signing of a memorandum of understanding (MoU) between Zambia Music Copyright and Protection Society (ZAMCOPS) and National Association of Media Arts (NAMA) that the holograms are meant for artists to protect and gain revenue from their works.
"You are aware that Government has introduced the hologram to protect intellectual property so that artists and producers of audio-visual works are rewarded for their sweat," Mr Kapeya said.
The minister said it is important for artists to produce intellectual property without worrying about theft of their work.
He said with the establishment of a Zambia Film Academy, there will be need for protection of such works while ensuring standards are maintained.
Mr Kapeya said developing the Zambia film industry will ensure skills training in scriptwriting, production, directing, television production and production design and that this will further improve both the quality and quantity of film and television productions.
He also said digital migration will see an increase in the demand for local content and urged artists to take advantage of the MoU and the film school to develop their products.
"NAMA members should take advantage of this MoU and produce indigenous Zambian films without worrying about theft of their intellectual property through piracy as the security feature to protect their property is now in place," Mr Kapeya said.
He said Government intends to put in place a fully operational NAMA which will look at the development of the Zambian film industry.
Mr Kapeya also said NAMA should work on issuing certificates to genuine film-makers to reduce the proliferation of sub-standard and counterfeit media arts products.
general manager Mutale Kaemba said the society will help NAMA collect royalties on intellectual property produced by its members.
Ms Kaemba said ZAMCOPS is the only institution mandated to collect such royalties and it will ensure that it carries out its mandate to ensure artists benefit from their work.
Last year the task force on holograms said about 30,000 holograms were released on the Zambian market.
Traders were given a window period of two weeks to ensure that a hologram was affixed on each audio-visual product sold in Zambia.