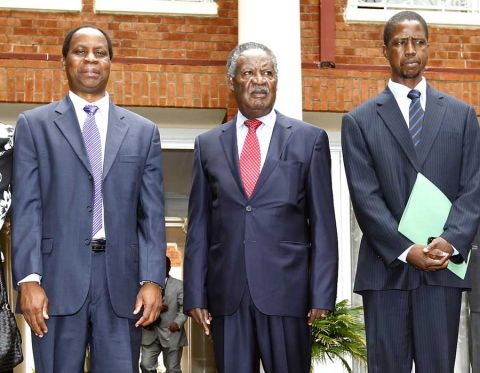 THE Parliamentary Accounts Committee (PAC) yesterday took to task two permanent secretaries in the Ministry of Agriculture and Livestock for failing to review the Farmer Input Support Programme (FISP), which it says is marred by corruption and financial irregularities.
The two permanent secretaries, David Shamulenge and Julius Shawa appeared before the committee to answer queries cited in the 2012 Auditor General's report.
The committee, chaired by Chipangali Member of Parliament (MP) Vincent Mwale (MMD), is disappointed that the Ministry has failed to clean up the distribution of subsidised fertiliser and inputs under FISP through the revision of the programme.
Mr Mwale said it is disappointing that Government has up to now failed to review the FISP despite giving assurances that it has made progress in revising the programme.
He said Government should find solutions for the problems surrounding FISP instead of blaming the previous administration over past failures.
Mr Mwale said there is need to review the policy on FISP to ensure the intended results are attained.
He said it is sad that FISP is marred by corruption which has led to a number of farmers not benefitting from the programme.
"The committee is disappointed with the way FISP is being handled by the ministry. There is a lot of corruption in this programme where some civil servants who are not supposed to benefit are also stealing.
"The committee is considering calling the minister to come and explain why it has taken so long for the ministry to review the programme," Mr Mwale said.
He is also disappointed that farm inputs worth over K2.7 million were distributed during the period under review to non-qualified cooperative movements.
Chama North MP January Zimba (PF) also wondered why the two controlling officers have not taken punitive action against some officers who have failed to retire imprest amounting to over K680 million.
Mr Zimba said it is sad that Government has continued to lose huge sums of money in unretired imprest which is affecting the effective implementation of development projects.
Lunte MP Felix Mutati (MMD) wondered why the Ministry of Agriculture and Livestock overpaid K65 million to a Copperbelt-based transporter for the transportation of farm inputs.
Luena MP Mulumemui Imenda (ADD) was also disappointed that some farm inputs were acquired through dubious cooperatives.
"A number of fake co-operatives have been formed targeting subsidised inputs, and most of their members are not even farmers.  It is sad that members of bogus cooperatives have been getting subsidised farming inputs and re-selling them at the market price," she said.
In response, Mr Shawa admitted that the system is very porous and open to corruption from the point of acquiring FISP forms to the disbursement of inputs.
Dr Shamulenge assured the committee that the ministry will expedite the process of reviewing FISP to address corruption in the distribution and delivery of the farm inputs.