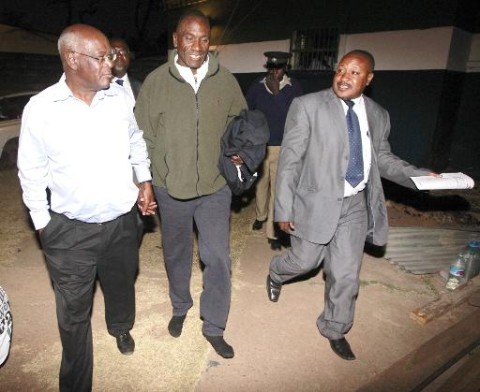 FORMER President Rupiah Banda's son, Andrew, who was last week convicted of corruption charges, is facing fresh charges for alleged theft involving more than K1 million.
Police in Lusaka have since recorded a warn and caution statement from him.
Andrew, who was last week sentenced to two years in prison for soliciting a bribe from an Italian investor, Fratelli Locci SRI Limited, was on Monday driven from Lusaka Central Prison to police headquarters where he was interrogated for about two hours.
Police spokesperson Charity Chanda confirmed in an interview yesterday that Andrew was warned and cautioned for theft by director contrary to the law.
"Yes he was warned and cautioned yesterday for theft by director contrary to section 279 charter 87 of the Laws of Zambia read with section 21(1)c," Ms Chanda said.
Andrew is alleged to have received cement worth K1, 077, 799, 100 (unrebased) from Zambezi Portland Cement Limited pretending that he had paid for it  through the provision of consultancy services when in fact not.
The incident happened between August 2010 and December 2011.
Further information obtained by the Times alleges that after Andrew got the cement from the cement firm, the amount was later written off the company books in unclear circumstances.
During the probe, Andrew, who did not deny receiving the cement, informed the investigation officers that the transaction with Zambezi Portland Cement Limited was genuine and that he had delivery invoices to show for them.
Andrew is, however, said to have not produced the invoices despite subjecting the police to a long wait for them since the investigation into the matter opened.
Meanwhile, Lusaka chief resident magistrate Joshua Banda yesterday granted Andrew K10, 000 cash bail pending his appeal to the High Court against his two-year jail sentence.
Mr Banda ordered that Andrew should further provide two working sureties in the like sum but in their own recognisance.
The Director of Public Prosecutions (DPP)'s chambers had, however, objected to Andrew being granted bail, saying there were no exceptional circumstances to warrant granting him bail.
But Mr Banda in his ruling yesterday stated that there was a notice of appeal filed by Andrew and that the discretion of granting or not granting bail lay with the court.
Mr Banda said the State did not show that Andrew was a flight risk and as such, the court was releasing him from prison on bail.