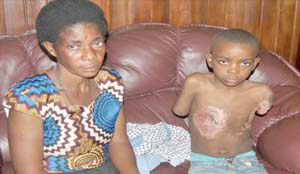 THE mother of an eight-year-old boy of Choma District whose arms were amputated after being electrocuted has appealed for assistance from First Lady Christine Kaseba and other well-wishers to enable him acquire artificial arms.
Mark Makuwa was electrocuted on November 2, last year when he climbed a mango tree with branches reportedly leaning against a Zesco pylon at Tulamore Farm.
As Mark was trying to pluck a mango fruit from one of the branches, he slipped off and came into contact with an electrical cable and was electrocuted.
He was in Grade one at the time of the accident and was amputated at Livingstone General Hospital.
Mark, who was accompanied by his mother, Lonika Ng'andu, yesterday called on Southern Province Minister Daniel Munkombwe to seek assistance from Dr Kaseba and Government.
Ms Ng'andu, a worker at Tulamore Farm, told Mr Munkombwe that she had no money to buy artificial arms for her son and was appealing to Dr Kaseba and other people for finance.
"We have been to Livingstone General Hospital and we were told to go there after one month and two weeks for review but I have no means of taking him there.
"I am appealing to our good mother Dr Kaseba, Government and other people to assist my son to acquire artificial arms and meet other medical expenses," she said.
Patriotic Front Choma District vice-secretary Busy Kapepe, who escorted Ms Ng'andu to Mr Munkombwe's office, said Mark was an intelligent pupil and required support.
He urged Zesco to ensure trees growing near pylons were cut to prevent future accidents.
Mr Munkombwe directed the provincial social welfare department to mobilise resources and ensure that Mark was provided with appropriate medical treatment.
The minister said the future of Mark, like any other vulnerable children, should not be shattered due to lack of assistance.