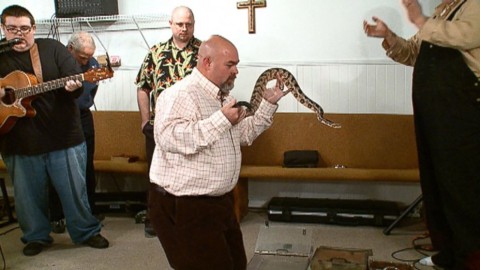 A snake-handling Kentucky pastor who appeared on the National Geographic television reality show "Snake Salvation" has died after being bitten by a snake.
According to a news release from the Middlesboro Police Department, someone called first responders at about 8:30 p.m. on Saturday regarding a snake-bite victim at a church.
When the ambulance arrived, they were told that Jamie Coots had gone home. Contacted at his house, Coots refused medical treatment. Emergency workers left at a little after 9:00 p.m. When they returned about an hour later, Coots was dead.
Coots was caught in January 2013 transporting three rattlesnakes and two copperheads through Knoxville, Tenn., for his church. Tennessee wildlife officials confiscated the snakes, and Coots pleaded guilty to illegally wildlife possession. He was given one year of unsupervised probation.
CBS affiliate WKYT spoke to Coots about a year ago, after police found several rattlesnakes and copperheads in his car. Coots said he believed the venomous snakes couldn't hurt him as long as he had the power of God.
"We use them in religious ceremonies and I believe as for me, if I don't have them there to use I'm not obeying the word of god," Coots said.