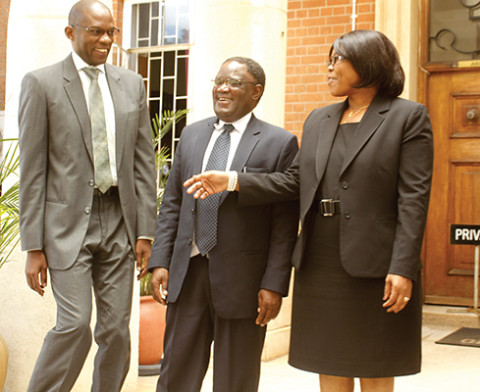 THE Tribunal constituted to probe Tourism and Arts Minister Sylvia Masebo will start its sittings on Monday next week.
Tribunal secretary Mathew Zulu, who confirmed this in a statement yesterday, said the Tribunal would on Friday this week meet both parties involved to spell out the ground rules and procedure to be followed during the proceedings.
"The Tribunal is expected to commence its first sitting next Monday, February 24, 2014 at 09:00 hours," Mr Zulu said.
Acting Chief Justice Lombe Chibesakunda appointed acting Supreme Court judge Rhoyda Kaoma with two other members, Livingstone High Court judge-in-charge, Ernest Mukulamutiyo and Lusaka High Court judge Chalwe Mchenga to probe Ms Masebo's alleged interference in Zambia Wildlife Authority (ZAWA) operations.
The Tribunal has been constituted under the Parliamentary and Ministerial Code of Conduct Act.
Ms Justice Chibesakunda allocated 45 days within which the Tribunal should complete the inquiry.
The Tribunal was appointed following a ruling by Lusaka High Court judge, Dominic Sichinga that former Communication and Transport Minister William Harrington had the right to be heard over his allegations.
Mr Harrington, through a judicial review, challenged Ms Justice Chibesakunda's decision to refuse to appoint a Tribunal to probe Ms Masebo.
Meanwhile, Mr Harrington has asked Ms Masebo to consider resigning from her ministerial position in public interest pending the outcome of the Tribunal investigations.
Mr Harrington said that it would be appropriate and morally correct for Ms Masebo to step down while the inquiry was ongoing.
"In saying so, you may appreciate that as complainant in the Tribunal, I intend to call several key witnesses to testify.
"Some of these will of course be functionaries under your ministry and its various departments and statutory bodies such as the ZAWA," Mr Harrington said.
He said in a letter to Ms Masebo dated February 17, 2014 copied to President Michael Sata and Mr Zulu that Ms Masebo should emulate former Communications and Transport Minister Dora Siliya who vacated her position to pave the way for investigations.