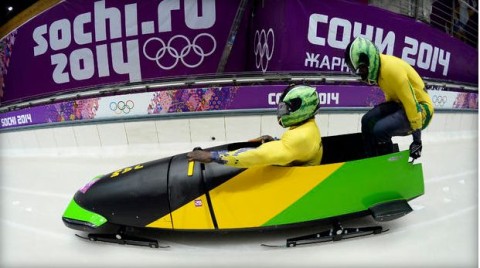 Jamaican bobsled fans have a new tune for their country's improbable run Sunday night.
The country's main tourism agency is touting "The Bobsled Song," a tune designed to sync with the two-man run of Marvin Dixon and Winston Watts.
See an excerpt of the animated music video for the song here:
The lyrics and "It's bobsled time" chorus follow the course of the 1,500-meter track with its 17 turns and vertical drop of 125 meters.
During the last part of the course, the group sings: "Last turn, keep your head down/I see the finish line/Jamaica rock the whole town."
Jamaica, a tropical island nation, qualified for the two-man bobsled competition for the first time since 2002, making it without racing in any World Cup events but accumulating enough points in lower-tier races in North America.
Unfortunately the Jamaicans got no immediate boost from the song. Dixon and Watts finished the first two runs on Sunday in 32nd place – 4.41 seconds behind the leader.
It's been a tough journey for Dixon and Watts. First they had to raise money just to get to Russia – then they were unable to make their first practice runs because their luggage, with the runners for their two-man sled as well as all their sliding gear, was missing.
The Jamaicans are considered a long shot to win a medal.
Jamaica's run to the Calgary Games in 1988 was depicted in the film "Cool Runnings."