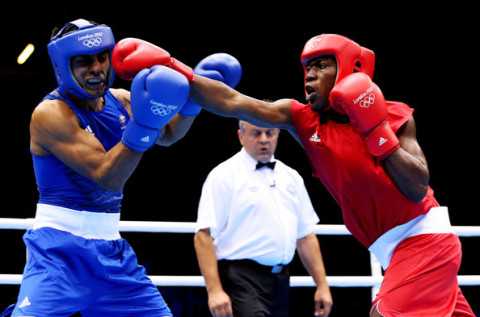 GILBERT Choombe knocked out Francis 'Galagata' Zulu junior to advance to the next round of the Zambia Amateur Boxing Federation (ZABF) national trials at the Olympic Youth Development Centre (OYDC) in Lusaka.
Choombe, who has represented the country at both the World Boxing Championships and 2012 Olympic Games in London, stopped Zulu in the second round after unleashing a barrage of punches in this exciting light-welterweight category.
Red Arrows' Mbachi Kaonga clobbered Adrian Sianga, forcing the referee to stop the welterweight contest in the second round.
The referee ended the contest because of excessive bleeding by Sianga from the hard blows he received on the face.
In these exciting national trials,  Arrows' Mukema Mateyo pummelled Jackson Zyambo of Zambia National Service (ZNS) and the intervention of the referee to saved the ZNS boxer from receiving further punishment.
Chester Simugwe of ZNS lost a 1-2 split point decision to Mufulira's Bwalya Lumbwe. ZNS' Goodwell Shamende outclassed Emmanuel Kabwe of Ndola City Council (NCC) to win 3-0 unanimous points decision.
Other fights saw Brian Mwabu of Green Buffaloes edge out Gomes' Caristo Bwalya on a 2-1 split point decision in the bantamweight category.
In the women's category, Mary Bwalya of Mikomfwa lost her fight to Exodus Stables' Lillian Kaseya after suffering an injury which forced the referee to stop the contest.
Arrows' Juliana Kasonka pounded Grace Mwale of Africa Direction, winning via  a 3-0 unanimous points decision in the flyweight division.
Buffaloes flyweight Hilda Ngandwe also grabbed a unanimous decision over Salome Chulu of Africa Direction while Chakacha Mbumbo of Kalewa Barracks proved too strong for Melody Nyirongo of Exodus in the bantamweight fight.
There were victories for Natasha Muma of Lubengela over NCC's Jacqueline Kasenya and Fridah Katonga of Mikonfwa outmuscled Exodus'  Margaret Tembo.