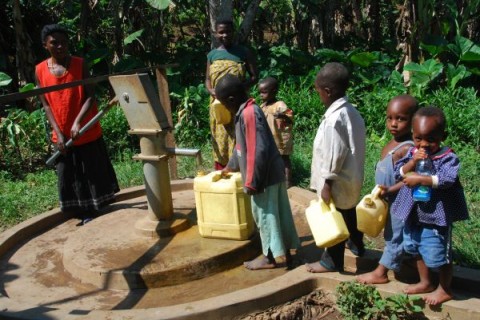 Chief Kashiba of the Lunda people of Mwense district in Luapula Province has appealed for the improvement of the quality of water in his chiefdom.
The chief made the appeal when Luapula Province Permanent Secretary Chanda Kasolo paid a courtesy call on him yesterday.
He said his chiefdom despite having a lot of water like any other in the Luapula valley the water was not fit for human consumption.
He said Luapula Water and Sewerage Company had been awarded the contract to provide the needed infrastructure for clean water in his chiefdom but the company had not yet the works.
And Permanent Secretary Chanda Kasolo assured the chief that he would ensure that the pace at which the company was doing the project was enhanced.
The chief also complained that the Road Development Agency –RDA which has been awarded the contract to work on the road from the main road to the pontoon has also been slow.
He said the Kashiba -Mwenda road which was an international road to service Tanzania and Congo within the SADC framework was important because it would be the lifeline for transporting agricultural produce in the region.
He called for a modern market in his chiefdom because it was an important link to Katanga which was the industrial hub of the DRC and a route to East Africa and the Copperbelt in Zambia.
He said his chiefdom's geographical location must be economically exploited to enhance trade and that he was ready to offer customary land for the purpose of the modern market.
The chief said village reconstruction and planning for his chiefdom was important because it was a good idea initiated by his predecessor who had even done the physical plan.
He added that there was need to do the roads, dry port, GRZ offices, community centre, secondary school and other infrastructure in his chiefdom.
And Mr Kasolo said the improvement of chiefdoms was part of the Patriotic Front-PF government's commitment to take development to the people .
Mr Kasolo however bemoaned that there was a problem with most of the structures in the province because of poor workmanship by most contractors attributed to poor supervision by the engineering staff.
He said most building projects in the province had bill of quantities and specifications which were being compromised in the process of construction because of lack of close supervision.
He said his office was undertaking investigations on many projects and those found guilty will be prosecuted because government was losing a lot of money through such vices and connivances between contractors and building engineers.
And Mwense District Commissioner Mumba Mushitu said he will ensure that efforts to improve the state of the palace were followed to the latter .
Meanwhile the traditional leader earlier complained that following his installation as Chief by Mwata Kazembe seven months ago, government has not yet recognized him.