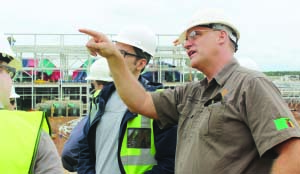 A CONSULTING firm contracted to work on the Kasaba Bay Airport runway, Ng'andu Consulting Limited has denied being from bogus contractor.
Company managing director Abel Ngandu said the firm was reputable as evidenced by the number of works it has executed efficiently.
Mr Ng'andu was reacting to reports that the firm was a bogus contractor as alleged when the Road Development Agency (RDA) appeared before a Parliamentary committee on Transport, Communications, Works and Supply.
Apart from the Kasaba Bay runway, Ng'andu consulting has also been awarded the contract for the upgrading of the Ndola-Kitwe dual carriage way.
"We, as Ng'andu Consulting Limited are not a bogus Contractor as alleged but a reputable firm that has successfully supervised a number of major projects in and around Zambia," Mr Ng'andu said in a statement.
Mr Ng'andu said contrary to the alleged findings of the committee chaired by Senga Hill Member of Parliament (MP) for Kapembwa Simbao, the works executed at Kasaba Bay airport runway are not shoddy.
"The executed works are in accordance with the standard specification meeting the requirement of ICAO to accommodate a B737- 800 aircraft," he said.
The Ng'andu Consulting managing director said overall, 70 per cent of the works have been completed so far at Kasaba Bay and that the works were only suspended due to delayed payments.
He also explained that the outstanding payment is accruing interest of not less than K200, 000 per month.
Mr Ng'andu, however, concurred with RDA executive director Bernard Chiwala's submissions to the committee that one member of staff was certifying payments to pay his own company without declaring interest to the Ministry of Transport, Works, Supply and Communications.
He said this was brought to the company's attention through the Anti -Corruption Commission (ACC).
He said Ng'andu Consulting Limited remains committed and will endeavour to co-operate with the Government and other stakeholders in ensuring that the project is executed with utmost efficiency and transparency.
"On our part, we have engaged the Government of Republic of Zambia to find the way forward as we are ready to go back to site and complete the works as soon as we are paid," he added.
Once completed, the Kasaba Bay airport will facilitate ease movement of international and local tourists to and from Nsumbu National Park and surrounding areas of Lake Tanganyika.
The 1.5km bituminous runway in Kasaba Bay airport on the shores of Lake Tanganyika meant for landing small aircraft was to be transformed into an international airport capable of accommodating a Boeing 737-800 jet airliner.
Ng'andu Consultants which was set up in 2003 is an award-winning firm with two local awards of excellence and one best practices award from Brussels, for 2009, 2011 and 2012 respectively and has branches in Rwanda and South Sudan and was set up in 2003.