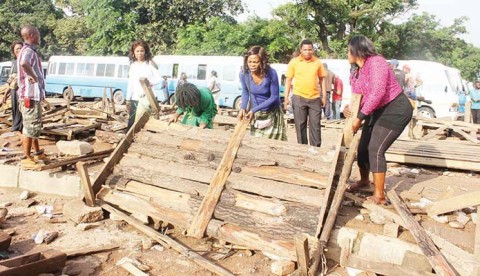 THE quest to make Kitwe clean and attractive was set into motion on Thursday night with the local authority removing wooden makeshift stalls in the central business district (CBD).
Last week, Minister of Tourism and Arts Silvia Masebo described Kitwe
as a dirty city, which cannot attract tourists in its current state.
The Kitwe City Council (KCC) wants this description changed for the better and has begun to take bold decisions to rid the city of its ugly tag, particularly ahead of the Zambia Open Golf Championship to be held in Kitwe this year.
Thursday's operation started around 22:00 hours with the removal of all the wooden makeshift stalls erected near Shoprite Checkers.
By daybreak yesterday, council officers were still razing the makeshift stalls erected near Shoprite where shop owners had been complaining of congestion on the corridors.
KCC acting public relations manager Dorothy Sampa said in an interview that the local authority was not discouraging street vending but it wants the traders to stop erecting makeshift stalls in the CBD.
She said Kitwe is hosting an international golf tournament, which will attract people from all over the world, hence the need to ensure that the city is kept clean in readiness for the event.
Ms Sampa said the local authority has put in place measures to regulate street vending, especially in the CBD.
Some traders are, however, not amused with KCC's decision to raze their stalls.  They contend that they should have been consulted.
One of the traders, Charity Kunda, 41, said most of the traders have lost their goods in the operation.
"We are shocked to learn that the council has removed our wooden makeshift stalls where we display vegetables and other goods. They did not even notify us," Ms Kunda complained.
Meanwhile, a newly-constructed butchery in Ndeke market in Kitwe' was on Thursday gutted destroying various meat products.
Ms Sampa and Kitwe chief fire officer Stanley Sichivula confirmed the incident yesterday.
Picture by NKOMBO KACHEMBA.
Daily Mail