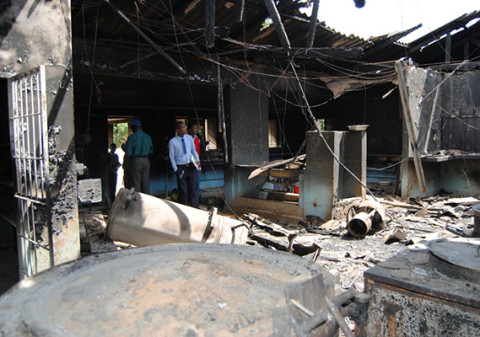 BARELY a fortnight after property worth thousands of kwacha were reduced to debris when a kitchen was gutted at Macha Girls Secondary School in Choma, another inferno yesterday swept through a kitchen at Choma Secondary School.
The fire, suspected to have been caused by an electric fault, started around 02:00 hours destroying 270kgs of cabbage, 193 serving dishes, 25 shelves, four doors, seven industrial electric pots, among other kitchen utensils.
A check at the school yesterday found some shocked pupils looking at the remains of the kitchen, from which food for the 1,300 boarding school pupils is prepared.
Perturbed school head teacher Samuel Mudenda said in an interview he woke up to find the school kitchen in flames.
"Around 02:00 hours I just heard some sounds of something like sustained gun fire but I later started smelling some smoke which made me suspect there was a fire.
"I ran out of the house and I saw fire and I began shouting for help and pupils woke up," Mr Mudenda narrated.
He said at the time, the watchmen were at the boarding master's house on an errand.
Mr Mudenda said an effort to phone emergency lines proved futile and he had to drive to the fire brigade offices while teachers and pupils were putting out the fire using water and sand.
He said the pupils and teachers, some of whom climbed on the kitchen's rooftop to pour water, managed to extinguish part of the fire before firemen arrived to quench the remaining fire.
"By the time I got back to the school from the fire brigade, I found the firemen had arrived because Zesco from Lusaka had already contacted them over the fire which was fully quenched around 03:30 hours," Mr Mudenda said.
He said the cause of the fire is unknown but it is suspected that it was caused by an electric fault on one of the electric pots.
He, however, thanked God that the fire did not extend to the kitchen's storeroom.
With the kitchen gutted, the pupils' meals will now be cooked using firewood.
A grade 11 female pupil, who preferred to be identified only as Mainza asked Government to help repair the kitchen.
Daily Mail