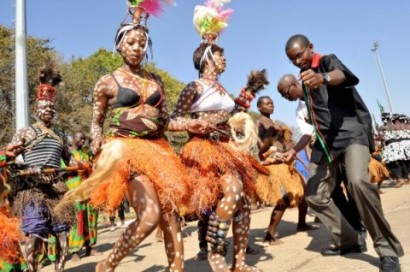 Parliament heard today that government did not just concentrate on advertising the tourism sites prior to co-hosting the 20th United Nations World Tourism Organisation (UNWTO) general conference last year.
The House was also told that the government also ensured that it raised the country's profile to the international community prior to and after the UNWTO general conference.
Zambia and neigbouring Zimbabwe successfully co-hosted the 20th United Nations World Tourism Organisation (UNWTO) General assembly last year in Livingstone and Victoria Falls Towns between August 23 and August 29, 2013 .
Tourism and Arts Deputy Minister Evans Lawrence says government engaged the local as well as government relevant authorities to advertise Zambia's tourist sites in light of the event.
Mr. Lawrence further disclosed that international media such as CNN and BBC appreciated the tourism products Zambia is endowed with following the vigorous marketing Zambia by the country.
Mr. Lawrence, who is also Livingstone PF Member of Parliament (MP) said, Zambia emerged a 'giant' tourist destination after the advertisements not only for specific tourism sites.
The Deputy Minister was responding to a question raised by MMD Solwezi West MP Humphrey Mwanza who wanted to find out how much publicity was done about the source of the Zambezi River as a tourist attraction by the Ministry of Tourism and Arts before and after the UNWTO General Conference.
Mr. Lawrence said his ministry has plans to rehabilitate roads leading to tourist sites including the national parks in the country to make them conducive for tourists to visit them.
And Deputy Minister of Education, Science, Vocational Training and Early Education Patrick Ngoma told the House that his ministry has released K280,000 to repair selected schools in Kalabo district in Western province.
Mr. Ngoma said government is determined to improve the education sector in the country.
The House deliberated the Legal Practitioners (Amendment) national Assembly Bill 20 of 2013 which went into second reading.
Justice Minister Wynter Kabimba who moved the motion justified that there is need for government to repeal the archaic laws impeding legal practitioners in the country.
Several MPs supported the Bill which comes for Committee Stage tomorrow .
Meanwhile, national Assembly Deputy Speaker Mkhondo Lungu directed Vice President Dr. Guy Scott, Home Affairs Minister Dr. Ngosa Simbyakula and Tourism Minister Sylvia Masebo to issue ministerial statements in the House next week to respond and clarify matters raised by some parliamentarians.
Mr. Lungu noted that the House and the nation at large needed to be informed with accurate information from the executive.