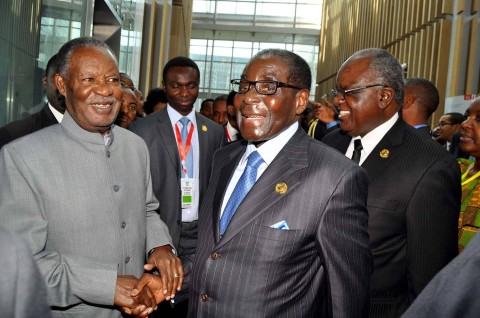 PRESIDENT Sata has cautioned Government officials against being dragged in the debate on the constitution-making process.
Mr Sata says Government officials should avoid talking about the constitution and ignore those debating the matter.
The President said this at State House yesterday when he swore in former Kitwe Town Clerk Ali Simwinga as Zambia's ambassador to Egypt.
Others sworn in were Godwin Phiri as State House commissioner of police, and Robert Kasezya and Pride Kabuswe as public policy specialists at Cabinet office.
The President said the talk or debate on the constitution is unnecessary as there is already a functioning constitution in the country.
Mr Sata observed that if there was no functioning constitution, the three arms of government would not have been operating smoothly as they currently are doing.
"So when they talk about the constitution, ignore them because without the constitution, we would not be here," he said
Mr Sata said if public officers discuss the constitution, they will fuel more talk on the matter.
"And this police man [Mr Phiri], apapene ngamwafulunganya alamwikata (If you break the law, he will arrest you) because there is a constitution which empowers him.
"Kumyesu, ngauleyasuka ulikumwinshi ninshi ulemwiswila (in our tradition, when you respond to a person while you are at the door, then you are inviting that person in)," Mr Sata said.
Daily Mail