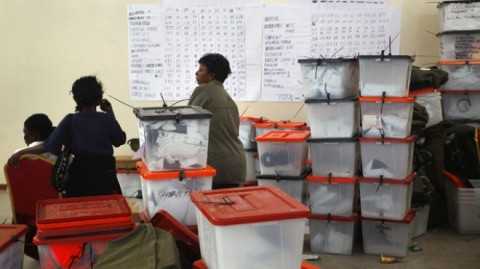 MORE than  200  police  officers  will be  deployed  in  Katuba  Constituency ahead  of  the  February 25 parliamentary  by-elections.
Central Province  commissioner of  police Standwell  Lungu  said in Kabwe yesterday that currently  both  plain and  uniformed  police officers  were  already  on the  ground  to maintain  law  and  order  as  campaigns were  going on.
Mr  Lungu said  the number of officers  to  be  deployed  would be  capable  of  resolving  any situation that may  arise, and was  confident  that  the  campaigns  would  remain peaceful.
He said he was happy with the  conduct of political  parties  taking part in the polls.
"I can  confirm that  over  200  police  officers  will be deployed  in Katuba  and  we are  confident  that  the  team  will be capable  of  handling  any  situation that may arise," he said.
He  urged political parties  to  remain peaceful  and  respect  each other's  views.
Meanwhile, the Alliance for Better Zambia (ABZ) has received a boost ahead of the by-election following the women movement's decision to rally behind the opposition party's candidate in the heavily contested race.
The Non-Governmental Organisation Coordinating Council (NGOCC) and Zambia National Women's Lobby (ZNWL) have declared their support for the only female candidate in the Katuba parliamentary by-election Patricia Mwashingwele as a way of increasing the number of women in decision-making positions.
The two organisations made their position known during the ABZ rally held in Chilo cha ba Lenje area in Chibombo District on Wednesday.
Speaking on behalf of the two organisations, NGOCC chairperson Beatrice Grillo said the low level of women participating in politics was a source of concern and unacceptable.
"There is need for the country to begin to gravitate towards the achievement of 50-50 representation for both men and women.
"It is unacceptable that while women comprise more than 50 per cent of our population, their participation has remained very low. We, therefore, commend ABZ for adopting a woman to contest the Katuba by-election," she said.
Ms Grillo, who was represented by Albetina Musachi, the chairperson for FLAME, which is an affiliate of the NGOCC, appealed to political parties to mainstream gender equity in their manifestos and constitutions to enable more women to participate in politics and the country's governance.
"While NGOCC is a non-partisan organisation, we will support the adoption of women to participate in politics and governance," she said.
Ms Mwashingwele and ABZ president Frank Bwalya were grateful to the two organisations for the stance they had taken.
Other candidates contesting the Katuba parliamentary by-election are Moses Chilando of the ruling Patriotic Front, United National Independence Party's Friday Malawo, Cecil Holmes representing MMD while the United Party for National Development is fielding Jonas Shakafuswa.
Others are National Restoration Party's Joseph Mushalika and National Revolution Party candidate Shakespeare Mwakamui.
Times of Zambia