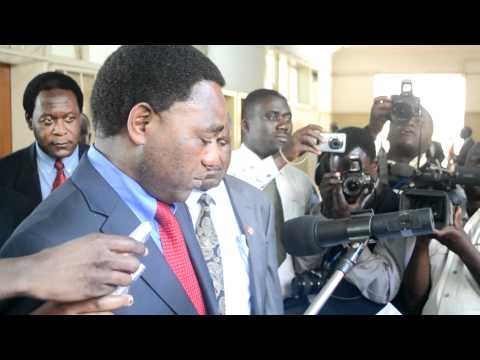 THE Livingstone Magistrate's Court yesterday discharged United Party for National Development (UPND) president Hakainde Hichilema in a case in which he was charged with proposing violence after the State decided to discontinue the matter.
Magistrate Chinkashi Chilingala informed Hichilema that the state had received instructions from the Director of Public Prosecutions (DPP) to enter a nolle prosequi against him pursuant to Section 81 of the Criminal Procedure Code Chapter 88 of the Laws of Zambia.
Mr Chilingala, however, told Hichilema that the discontinuation of the case does not stop the State from starting fresh criminal proceedings against him.
"I hereby discharge you accordingly, you may stand down," Mr Chilingala said.
This is in a case in which Hichilema was facing one count of proposing violence.
Addressing journalists at the court premises, Mr Hichilema said there is need to review the justice system.
Daily Mail