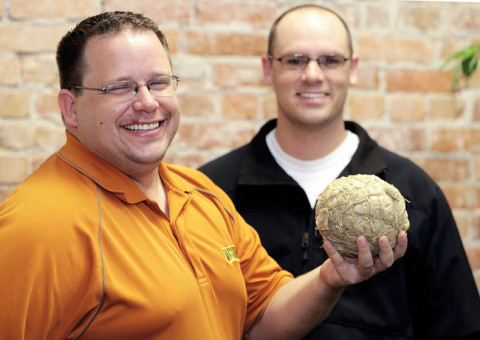 Intricately woven string bind weathered plastic bags into a perfectly formed, if slightly small, soccer ball.
The tightly packed bags have a slight give when hit with a foot, or bounced off a head, much like the higher-end counterparts kicked around Canadian soccer pitches.
"That's a fairly fancy one," said Aaron Breimer, nodding towards the ball in front of him. "The kids actually used string for it. If they can't get string, they take pieces of plastic and braid it into a string."
Breimer's hand nearly encompasses the keepsake he brought back from the Kasaka School in the Monze District of Zambia at the end of January.
Breimer and Mike Eaton are part of the Southwest Ag Partners team working in collaboration with Lambton College's Enactus group helping to improve local farmer's corn yields.
During Breimer's first trip in August he discovered the Kasaka school of 800 students had only one real soccer ball to share.
The average income of a family in the Kasaka school district is approximately $300 USD a year, and a soccer ball costs between $30 and $35 USD.
Breimer spent a week in January scrambling to fill his luggage weight allowance with soccer balls to hand out to the school and children when he found out about the last-minute trip.
"The people of Chatham came through in a big way," said Breimer. "Some donated soccer balls, some donated money. Sport Chek in Chatham sold us a whole bunch of soccer balls at their cost, and National Sport got us 30-35 balls at cost. We took 73 soccer balls with us."
The men could not have prepared themselves for the impact their act of charity would have on their lives.
Breimer and Eaton said the pickup truck they were in was surrounded by people when they pulled out the first soccer ball in Monze, pumped it up and handed it out.
"They can't comprehend it, here we take it for granted, but (for them) it's like winning the lottery," said Eaton. "When we dropped off those soccer balls the first day, what did Desmond say?"
"'You've made the school richer by eight soccer balls,'" Breimer finished. "They are incredibly happy people already but to be able to play a little more soccer and have just a little bit more fun –they were having a blast."
Eaton brought a number of skipping ropes to hand out children as well.
Although there was a rush of seeing an instant change in the lives of the people and schools who were given the balls and ropes, it was an emotionally draining trip for the men.
Breimer said the last ball he handed out was the only one he traded for the hand-woven Zambian soccer ball.
The exchange, which was caught on video, shows a young boy perhaps five-years-old staring in confusion as Breimer asks to trade him a high-end soccer ball for the tattered plastic sphere.
Breimer's voice cracks with emotion when the boy takes off running, a huge grin splitting his face.
"How can you hold something like that and say I can't donate?" he said. "That's why I had to bring it back."
Eaton and Breimer are throwing down the gauntlet to each of the 'rookies' going to Zambia to bring 100 soccer balls each to hand out adding moments after the last ball was handed out they saw two more kids playing with the same type of ball.
It left the men feeling they could have done more.
"We're there for the Ag side of things but this type of thing, holy cow, it's a whole other emotional side, you can't even put words into it," said Eaton. "I see kids over there trying to make themselves better and they just don't have the opportunity. That's what hit me. That's what hit me hard. It's changed me, I know that much."