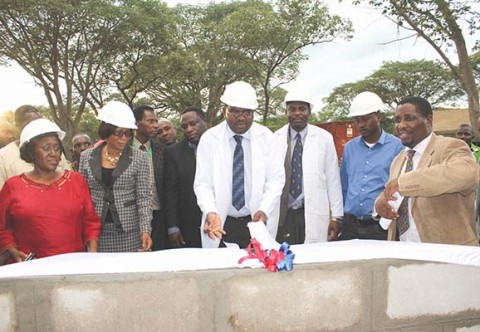 The quest for quality healthcare services for residents of Mulobezi and Kazungula has taken a giant leap with Government commissioning the construction of the first district hospitals in the two rural regions.
The construction of Mulobezi hospital will cost K13.5 million with the Kazungula hospital to cost K11 million.
Deputy Health Minister Chitalu Chilufya said Government is committed to providing cost effective healthcare close to the people through sustainable infrastructure development.
He said this at the ground breaking ceremony in Kazungula on Friday.
The construction of phase one of Kazungula District Hospital will cost K11 million and will consist of an outpatient department, X-ray department and administration department.
The contractor is on site and construction works are scheduled to be completed in 11 months.
Dr Chilufya said Government is also building 10 health posts in various parts of Kazungula.
To ease transport challenges faced by the people in the district, Government will hand over a new ambulance to Kazungula in two weeks' time.
Dr Chilufya said Government's vision is to provide primary healthcare services, hospital referral services, resource development and essential drugs closer to people.
He said people in Kazungula cover long distances to access healthcare services but Government wants such services closer to the people.
Dr Chilufya said the ministry is particularly committed to ensuring that pregnant women and under-five children have access to health services in rural areas.
Government plans to spend close to US$10 million in constructing 95 health posts in Southern Province.
Government is also modernising existing health facilities such as the Livingstone General Hospital.
Speaking at the same event, Chief Sekute of Kazungula commended Government for coming to people's aid by constructing a hospital and health posts.
Chief Sekute called for peace and unity in the district as Government embarks on the construction of the hospital.
Kazungula district commissioner Paschalina Musokotwane said the construction of the hospital is a positive development that will ease the challenges of healthcare provision.
Daily Mail
Photo Credit: Nancy Mwape