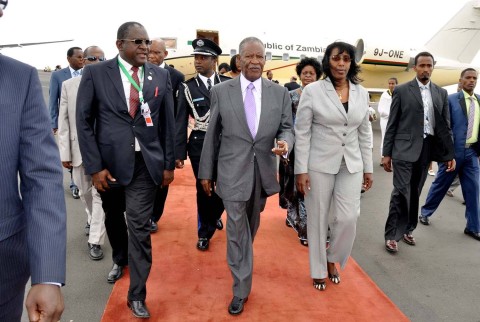 PRESIDENT Michael Sata has said Government has swiftly engaged Democratic Republic of Congo (DRC) officials on the need to tighten border security and defuse tension at Kasumbalesa border.
Two lives have so far been lost at the border with the DRC in a space of one week.
Mr Sata said the situation at the border was being addressed and appealed for calm among Zambians.
He posted on his Facebook page yesterday that he had directed all security wings to ensure the safety of all Zambians and other nationals passing through the country was guaranteed.
The Head of State said the security measures were meant to prevent criminal elements from taking advantage of the happenings at the border to peddle their "narrow and selfish interests".
"A number of you have been contacting me in my inbox raising concern over the security situation at Kasumbalesa Border Post vis-a-vis the recent unfortunate loss of lives.
"Be assured that as Government, we are equally concerned and have swiftly engaged our Congolese counterparts on the need to avert similar occurrences in future by tightening security at Kasumbalesa and ultimately preventing criminal elements from taking advantage to peddle their narrow and selfish interests," Mr Sata said.
"The situation is being addressed and I, therefore, appeal to all Zambians to remain calm. I have also directed all security wings to ensure that the safety of all Zambians and our neighbouring compatriots passing through our country is guaranteed. Let's maintain peace," he added.
Zambian and Congolese residents rioted on Thursday following the latest killing of a Zimbabwean truck driver barely a few days after the shooting of a Zambian truck driver, Patrick Mwila, 28, by a Congolese soldier.
Police fired teargas to restrain the irate crowd from damaging property.
The 52-year-old Zimbabwean truck driver, Joseph Mwachande Howard of Vitwell Limited of South Africa, who was driving a Mercedes Benz truck, registration number XKT 039GP, was shot twice while he was in a queue on the Zambian side between Minestone Market and Petroda Filling Station by unknown people.
Police spokesperson Charity Chanda said Mr Howard was found alone inside the cabin of the truck, and that two empty cartridges from an AK47 rifle were recovered from the scene.