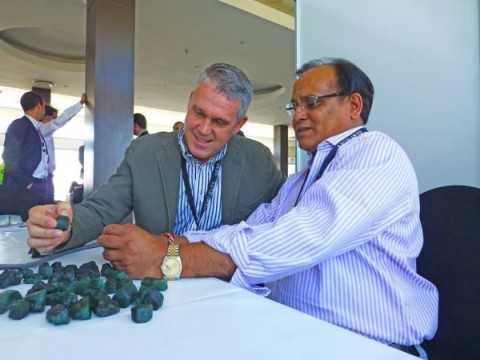 PRESIDENT Michael Sata has said the Patriotic Front (PF) has fulfilled its campaign promises to promote value addition to Zambia's gemstones and other minerals.
Mr Sata has also said the bold decision to auction gemstones and other minerals locally has benefitted the country.
According to his latest update on Facebook titled 'The benefits of taking bold decisions', President Sata said during his campaign for office, he insisted that once elected, he would promote value addition to Zambia's gemstones and other minerals.
"During my campaign for office, I insisted that as President of Zambia I will ensure that we start auctioning our gemstones and other minerals locally. As usual many pessimists objected and labelled me a dreamer," he said.
He said on the insistence of Government, Kagem Mines Plc conducted three auctions in 2013.
The first auction was held in April during which time 6.3 million carats of low-grade emeralds were sold at a value of US$15.2 million.
The Head of State said the second auction was held from July 15 to 19 and 583,448 carats of high-grade emeralds valued at $31.5 million were sold.
He said this was the second highest auction revenue achieved to date and the best in terms of value per carat sold.
"All the 583,448 carats placed on offer were sold and the average per carat price of US$54 set a new record," he said.
Mr Sata said the third auction was held from November 11 to 15 when $16.4 million was realised from the low-grade emeralds.
He said following the successful outcome of the three auctions held, there was no doubt about Zambia's ability to hold these auctions locally to maximise revenue which might have been understated through various manipulations.
The President said it was his belief that selling and auctioning of gemstones locally would create employment, enhance value addition through cutting, polishing and jewellery-making activities, as well as enhance revenue collection as a result of proper monitoring mechanisms.
He said it was for that reason that Government would recapitalise Zambia Consolidated Copper Mines-Investment Holdings (ZCCM-IH) because he was determined to extract huge benefits for the people from the God-given resources.
Mr Sata said Government would re-capitalise ZCCM-IH with K275 million to add value to the country's various gemstones by cutting and polishing, among other jewellery-making activities.
He said that would be the way forward after conducting the successful local gemstone auctions.
Times of Zambia