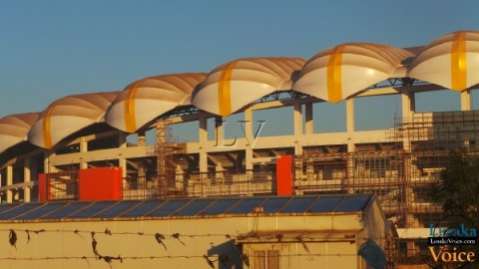 THE commissioning of the newly-constructed Heroes National Stadium in Lusaka, which was scheduled for next week, has been deferred to October following the discovery of some anomalies by Government.
Works and Supply Minister, Yamfwa Mukanga said the ultra-modern facility could only be commissioned and fully operational in October once all the anomalies were worked on.
When he toured the stadium site on Wednesday, Mukanga said he had noticed some errors which could delay the commissioning and that until those were worked on, the Chinese contractor could not handover the facility to Government.
During the tour, it was discovered that some parts of the building had developed cracks and the access roads were not yet done.
The cracks were visible at Gate One where tickets would be sold and also on the staircases leading to the terraces.
The minister also noticed that the fire points were not easily accessible in case of a fire during a match.
Mukanga said the instructions on fire extinguishers including how to go about in quenching fire were written in Chinese, making it difficult for Zambians to understand.
"It is clear this stadium is not ready. It will not be opened any time soon because there are a lot of things that need to be done. Things that need to be done much better. In future, we need to do a better job," Mukanga, who was flanked by Matero member of Parliament, Miles Sampa and other officials, said.
He said the stadium would not just be used for football matches but also other activities and therefore nothing could be left to chance.
Other anomalies discovered where that the stadium had no training pitch including facilities for track and field events.
Independence Stadium cannot pass for a training pitch since it has an artificial turf while Heroes had natural grass on its playing surface.
On access roads, Mukanga learnt that the construction would only be completed in October.
The minister said the stadium could therefore not be commissioned until all the access roads were in place and Government was assured that there would be no congestion during matches.
Other issues raised where the need for an explanation on how the roof to the stadium, which is now dirty, will be cleaned.
Chinese firm, Shanghai Construction, are the contractors for the Heroes National Stadium which is one of the stadiums Zambia hopes to use for the 2019 Africa Cup of Nations if the bid to host the continental showpiece is granted by CAF later this year.
Times of Zambia