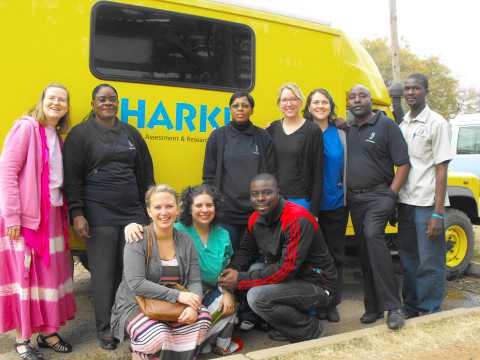 Last summer, four volunteers from the Callier Center for Communications Disorders visited Zambia in a humanitarian venture that doubled as a training trip.
Dr. Jackie Clark, clinical associate professor in the School of Behavioral and Brain Sciences, first started making humanitarian trips to Africa with a 1998 visit to Mozambique. She has returned to Africa every year with a group of students to conduct hearing-loss screenings, provide audiological services and train clinicians to carry on work after her team leaves.
In 2013, Dr. Annie Cardella, Jennifer Frank and Joan Oexmann accompanied Clark to Zambia.
In a country where many people still use witch doctors for their daily medical needs, Clark's students and a Zambian audiologist, Dr. Alfred Mwamba, took desperately needed audiological care to the cities of Ndola and Lusaka.
"There was one [witch doctor] who told us they had a cure for AIDS," said Cardella, an audiologist pursuing a doctorate of philosophy in audiology. "It was in a little bottle, and the reason it didn't usually work was that it would go bad before it could cure them. It was a long-term medication, so they had to take it every day, but it would expire. That was the belief. Who do you want to believe, the doctor who says there's no cure for AIDS, or the witch doctor who says they have one?"
Cardella also visited South Africa with Clark in 2012.
"The trip this time was a little different," Cardella said. "I had already graduated from the [UT Dallas]AUD program, but I am currently enrolled in the PhD program — it was almost like going as a clinician and a student at the same time. I was able to do a lot of things on my own, but not necessarily everything."
Adapting to Challenges in Africa
Cardella, Frank and Oexmann learned about working in the bush using only the items at hand. A common theme throughout the trip was if plan A failed, there were still 25 other letters in the alphabet.
"We're pretty lucky with the facilities that we have [at UT Dallas], even if we don't really realize it," said Oexmann, a second-year audiology student. "It was pretty eye-opening in that way."
As the team traveled around Zambia with Mwamba, the unexpected was part of the norm. They are used to working in soundproof booths with cutting edge equipment at the Callier Center. However, in Zambia, they often had to work outdoors under tarps to block the sun, using testing equipment that was made portable by putting it in a suitcase.
"[It] creates an awareness of what you have to work with, and how you can adapt things and make them work for you, even if you have limited resources," Oexmann said.
Much of the aid rendered came in the manner of providing hearing tests or helping to fit hearing assistive devices to people when necessary. Hearing loss could come from a variety of sources, including the medicines used to treat malaria and AIDS; but, the most common sources were simple reasons, such as a build-up of ear wax or an ear infection. For most, though, the ability to hear could make the difference in their ability to feed a family.
"If you can't hear, you might not get a job at all, and then you can't support your family," Cardella said. "For people who have gotten malaria and been on the medication, that just destroys your hearing, that just puts you in a bad position. They used to be employable, but now they're not."
Audiological treatment and properly fitted hearing aids could make all the difference.
First Steps to Self-Sustaining Program
The other goal of the trip was to assist in training clinicians to help Mwamba in the future. Mwamba is unable to address the needs of Zambia's 14 million people on his own. By helping him train assistants, Clark's team has begun the important first steps to creating a self-sustaining program to meet Zambia's audiological needs.
"There are so many programs globally that have been created with the motto to help those in need, but in reality, they are only hurting these societies, because they are not passing on the methodology of the care they are providing," Frank said. "Many organizations also come in and don't adapt or take into consideration the importance of cultural differences. What may work in one part of Africa doesn't necessarily work in other."
Clark will continue to provide sustainable aid to African countries in the years to come while offering students the chance to do bush audiology.