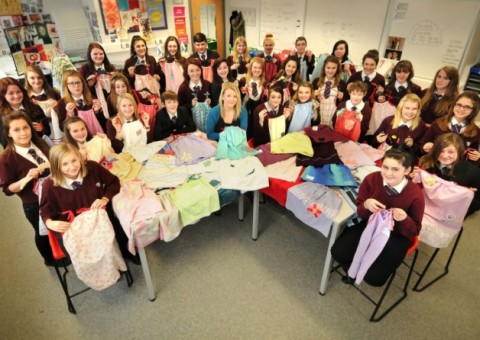 Students at Cromwell Community College have made dozens of dresses for African children.
The bespoke dresses were created out of pillowcases by Year 9 textile students at the Chatteris school and will be sent to two schools in Zambia.
Textiles teacher Stephanie Fraser said: "The aim of this task has been for them to learn sewing skills, recycling whilst at the same time learning about helping others less fortunate than themselves."
They were introduced to the idea of pillowcase dresses by a parent who thought it would be a good idea for a one-off lesson. Now it is included in the yearly scheme of work.
They can send up to 200 dresses out to Zambia every year and hope to extend the project by making shorts for boys.
Cromwell developed a partnership with Chisokone Basic, a school in the remote northern wetlands of Zambia, seven years ago. This was so successful that three years ago, they linked with Riverview Basic, a school in southern Zambia close to Victoria Falls.
In this time staff and pupils have exchanged correspondence, pupils have worked on a Zambia theme-day annually and financial help has been sent to both schools.
Cromwell is proud of the support it has provided with help from governors, staff, pupils, parents and even clubs and organisations in and around Chatteris. Stationery, books, sports equipment, sports wear and even building materials have been sent.
This summer saw a second visit to the schools from Cromwell staff.
Traditional Bemba tribal dancing greeted Mr Kent and Miss Roberts at Chisokone, whilst majorettes met them at Riverview.
They said the Zambian governors, parents, staff and pupils were welcoming and friendly.
They were also genuinely appreciative of Cromwell's help. There was certainly evidence that the commitment voiced seven years ago is still strong.