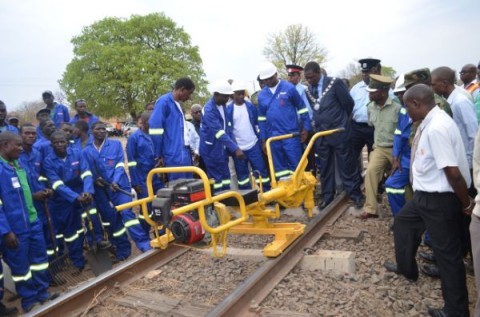 Zambia Railways Limited (ZRL) has engaged thirty two (32) Zambian Contractors to rehabilitate the one thousand and sixty two (1,062) railway line from Chililabombwe to Livingstone.
Speaking during the signing ceremony between ZRL and the contractors in Lusaka today, ZRL Chief Executive Officer Professor Muyenga Atanga says the project will be partly financed by the one hundred and twenty million US Dollars ($120 million) Euro Bond government gave rail company last year.
Professor Atanga says the company decided to contract local contractors following the past complaints that local contractors are sidelined.
He says Zambia Railways Limited expects the contractor to do more than one kilometer per day according to the international standards of railway rehabilitation.
Professor Atanga has also implored contractors to ensure that 10 percent of their labour force consists of women noting that they can also immensely contribute to the development of the country.
He has also implored the 32 contractors to have a minimum of one hundred workers and ensure that they observe the minimum wage so that workers are not under-paid.
Professor Atanga adds that the contractors are expected to do about five hundred (500) kilometers this year and that works should be completed before November, 2015.