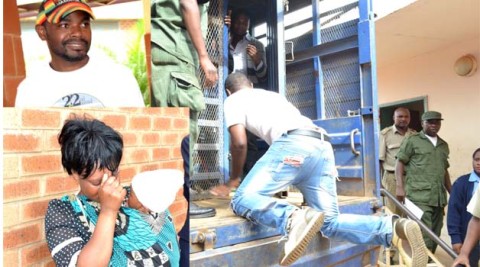 LUSAKA-based musician Clifford Dimba, alias 'General' Kanene, has been convicted of defiling an underage girl.
Dimba, 26, has since been committed to the High Court where he faces a minimum sentence of 15 years and maximum of life imprisonment which the offence carries.
Dimba will remain remanded in prison until such a time when he is cause-listed to appear in the High Court and subsequently sentenced.
Lusaka magistrate Rodgers Kaoma convicted the musician, after he found him guilty of defiling a named Grade 7 pupil of Kamwala South Township.
Mr Kaoma said as a musician, Dimba should behave as a role model and not take advantage of his young fans by having unlawful carnal knowledge of them.
But Mr Kaoma said he was satisfied that Dimba had sexual intercourse with the girl and had no excuse whatsoever for doing so on an underage girl.
"I am satisfied therefore that the prosecution has proved its case beyond any reasonable doubt. I therefore find the accused guilty and therefore convict him," Mr Kaoma said in passing judgment.
Mr Kaoma said although Dimba had claimed, in his defence that the girl dressed like a sex worker to entice men, the claims was unfounded because a closer analysis of the girl by the court proved to the contrary.
Mr Kaoma said it was clear from a mere look at the girl that she was under the age of 16, although she had no birth certificate.
He further said other than the evidence of the girl that she was underage; there was collaborating evidence from the doctor, her father and her school about her age.
According to the University Teaching Hospital (UTH) age test, the girl was 13 years and eight months at the time of the incident.
On Dimba's defence that he did not have sex with the girl, Mr Kaoma said the girl's evidence about how the convict defiled her was elaborate and did not match that of a girl who had been tutored on what to tell the court.
He said there was also evidence of how Dimba pleaded with the girl's parents for them not to report him to the police and a recorded call from a mobile provider showing that the convict and the girl's father had communicated during that period which was not a coincidence.
Mr Kaoma said the musician also failed to refute evidence by the girl and her father that it was Dimba's parents who took the girl to her parents' home a day after the incidence.
Dimba of house number B/02 Misisi Township was charged with the defilement of the girl on January 31, 2012.
Picture Credit  CLEVER ZULU