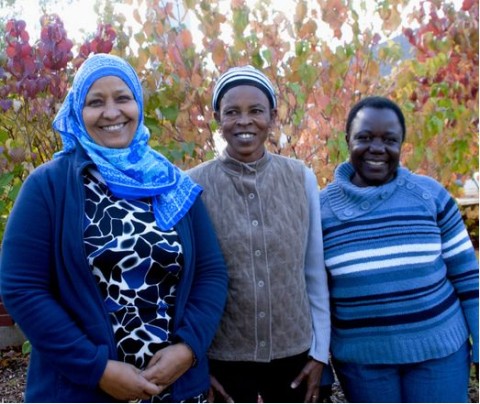 Marian Munyinda smiles as she talks about growing up in the copper belt of northern Zambia. But there's one tradition she's working to turn on its head – the custom of having men make all the decisions – so women can take on greater leadership and share in community decision making."Empowerment is a life-long process", says Munyinda, a treasurer with Women for Change in Zambia, an influential NGO connected with more than 800 local organizations.
"It means being able to do what I want, when I want, without fear of any reprisals," she says. "Women who are seed growers or fish farmers or who raise livestock can run their own affairs. Women for Change offers that training."
Located in south-central Africa, Zambia is geographically only four times larger than Nova Scotia, but has a population of more than 13 million people. About 60 per cent of Zambians live in poverty.
Reclaiming their voices
Helping other women reclaim their voices is a dream that has brought Munyinda more than 11,000 kilometers to Coady International Institute in Antigonish, Nova Scotia.
As part of the EMPOWER program, she has joined 16 other African citizen leaders working toward a shared goal – how to empower women so they can play greater roles in their societies, while also becoming self-sufficient in food production.
It's a sentiment shared by Assnaku Hassen of Ethiopia, a country of 93 million people located in the Horn of Africa. A staggering 85 per cent of the population lives in rural areas, where the economy largely depends on rain-fed agriculture.
"Training is the backbone of my organization, Women in Self-Employment (WISE), says Hassen. "Training in business skills, entrepreneurship, management and self-development. We are also helping more than 20,000 women and girls save for the future, with the equivalent of $1.6 million CDN in savings and credit cooperatives.
Hassen says micro-loans of between $50 and $5,300 support women who aspire to run their own businesses, some of which create jobs for others in the community. So far, about $3.7 million CDN has been disbursed.
Securing healthy food

Patricia Dianon of Ghana seems shy as our interview begins. But when we talk about her work with the Rural Women Farmers' Association, her eyes brighten and she talks excitedly about teaching women how to grow delicious, local food for their families without chemicals.
"What we are learning through Coady Institute is how to reach more rural women so they can grow healthy food for their families and sell the surplus in local markets."
Dianon was the first woman to be made divisional chief in the Ko, Nandon district of northern Ghana. She is also proud mother of four daughters, three of them in university.
"Women, especially young women, can be the solution in many of our communities. They carry important messages to others. They can promote cooperation."
The five-year women's leadership program, funded by the Canadian government, includes training in Canada and the three African countries. It will pay huge dividends, says the Institute's Vicky Schreiber, who was hired to manage the project.
"Some women in African communities are almost invisible. So this is all about strengthening their leadership, by having men and women work together to reduce poverty through sustainable farming and other methods. It's going to be exciting to watch this spread through our partner organizations in each country."
Assnaku Hassen says these approaches work. She bursts into a wide smile during a class presentation as she shares the story and photos of an Ethiopian woman who was earning the equivalent of $3 a month, working from a small, one-room house.
"Today she's financially secure, and building a six-story boarding house to rent rooms," she tells her colleagues. The men and women from Ethiopia, Ghana and Zambia burst into applause. The message is clear – this is what EMPOWER is all about.
This blog was written by the Coady Institute.
Coady Institute at StFX University leads Canada's EMPOWER program in Africa.