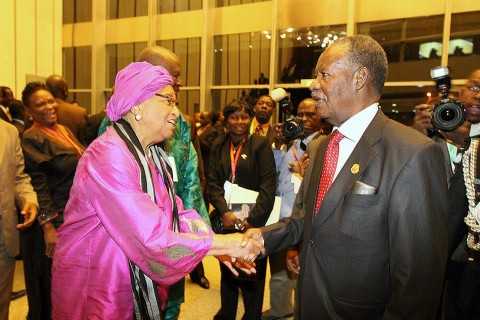 President Michael Sata has left Addis Ababa Ethiopia where he attended the 22nd Ordinary Session Of African Union.
And President Sata has urged African leaders to resolve against being divided by outside forces in their multilateral trade negotiations.
President Michael Sata has left Addis Ababa Ethiopia where he attended the African Union summit.
The President was accompanied by First Lady Dr Christine Kaseba and his Assistant for Press and Public Relations George Chellah.
President Sata was seen-off at Bole International Airport by Foreign Affairs minister Wylbur Simuusa, Agriculture minister Bob Sichinga, Zambia's Ambassador to Ethiopia Susan Sikaneta and Senior Government officials.
Speaking when he made an intervention during the 22nd Ordinary Session Of the African Union (AU) heads of state and government summit here today, Mr Sata said African leaders have resolved to speak with one voice at the summit."In order to break the current impasse on the economic partnership agreements and indeed in order for Africa to achieve the required success in multilateral trade, we strongly urge the African Union Commission to make arrangements for our cabinet representatives to meet sometime in March and map out a strategy for those negotiations as well as to agree on what the best position for Africa is," Mr Sata Said.He also said the summit cannot end without placing on record appreciation for economic communities which have advanced their negotiations aimed at boosting intra-Africa trade towards the establishment of the continental Free Trade Area."It is encouraging as heads of state, we want to commend the Southern African Development Community, Common Market for Eastern and Southern Africa and East African Community who are expected to sign an agreement in June 2014 to establish an enlarged market covering 26 countries in East and Southern Africa with a combined population of 600 million," Mr Sata said.
He added: "We ought to learn from each other's strengths as I am awarethat the Economic Community of West African States (ECOWAS) has alsoadvanced towards establishing a monetary union of West African States.At our June summit in Malabo, Equatorial Guinea, we should befurnished with the appropriate reports I have referred to in mystatement."Earlier, the President said there is need for a peaceful and prosperous Africa."We have to start putting in place concrete measures to realiseAfrica's dream from 2013. The economic integration of Africa and control cannot be realised without opening up trade between and among ourselves the members states of the African Union," Mr Sata said.
He said as African countries increase production, they have resolved to be serious about agro-processing and industrialisation.The President also said there is need to know the comparative advantage of member countries for the purpose of trade."To this effect, therefore, I am proposing that we, the heads of state and government, direct the AU commission through the department of trade and industry, to prepare a list of member states, comparative advantage or goods and items we can profitably trade with each other,"Mr Sata said.