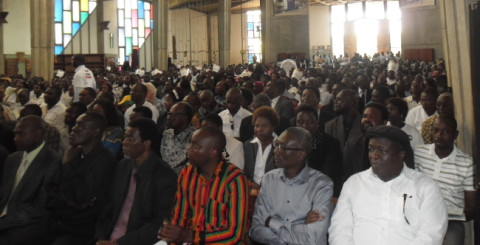 Church mother bodies have dismissed assertions by President Michael Sata that the constitution making process has been hijacked by individuals whose objective is to embarrass, humiliate and politically undermine the sovereign will of the masses.
Evangelical Fellowship of Zambia (EFZ) Executive Director Reverend Pukutu Mwanza says there is nobody outside government with the capacity to hijack the constitution making process as is being insinuated by the President.
Rev. Mwanza adds that government is in control of the entire constitution making process.
He explains that the Church and Civil Society Organizations have only raised concern following abrogation of the terms of reference by the Technical Committee after government directed that only ten copies of the final draft constitution should be printed.
He says this is contrary to the original terms of reference the Head of State had set for the technical committee upon completion of the final draft constitution.
Rev. Mwanza states that the Church is suspicious of what government wants to do to with the final draft constitution.
And the Council Churches in Zambia says it is not in the interest of the constitution making process for Cabinet to first go through the draft constitution before it can be released to the public.
CCZ General Secretary, Reverend Susan Matale says the draft constitution should be made available to the Zambian people to whom it belongs simultaneously.
President Sata in his recent statement contended that with the current political schemes and ill-intentions, it will be highly irresponsible for government to authorise the release of the document before it goes through Cabinet.