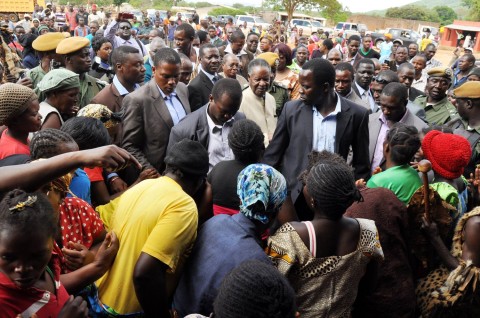 The Electoral Commission of Zambia's National Management Committee has resolved that President Michael Sata should hold political meetings in areas where there are by-election vacancies indoors.
This follows the complaints lodged by the MMD and UPND over the rallies held by President Michael Sata in Vubwi and Malambo constituencies where pending by-elections have been halted by court challenges.
ECZ public relations Manager Cris Akufuna in a statement issued to QFM News says the concerned parties agreed during a meeting held on 23rd December that the President could not be stopped from inspecting developmental projects in the country, but that holding political meetings by the president in areas where there are by-election should be done indoors.
Mr Akufuna says the parties also resolved that in an area where there are by-election vacancies, all political parties should not campaign before the Electoral Commission of Zambia announces the elections date and campaign period.
He further states that the parties also agreed on the need to comprehensively Electoral Laws to guide political parties.
MMD deputy National Secretary Chembe Nyangu and party official Alfred Ndhlovu signed on behalf of the former ruling party, while UPND Secretary General Winstone Chibwe and national Chairlady Namakau Kabwiku signed on behalf of their party, with PF central Committee member Ngosa Simbyakula and deputy Secretary General Bridget Atanga signing on behalf of the ruling party.
qfm