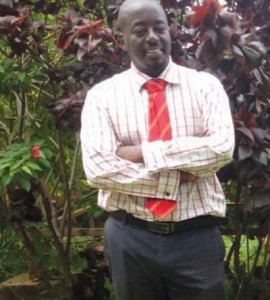 Kapumpe Musakanya: Social entrepreneur at heart
SOCIAL entrepreneurs like Kapumpe Musakanya don't merely like to sit back at the sight of a problem. He would much rather devise a solution to that problem in the hope of inspiring change.
At the heart of this change are people and in this respect, his passion lies in the areas of sanitation and the environment.
"A social entrepreneur looks at what is a problem in society and responds to that problem with an innovative solution," Kapumpe explains.
Born the son of former Bank of Zambia (BOZ) governor and veteran Zambian politician Valentine Musakanya, Kapumpe has always had reason to stand out and make a difference.
Clean air and clear skies are among the things Kapumpe enjoys. His résumé boasts of work in the field of socio-environmental management spanning 19 years.
This experience in environmental work came with his employment at the Zambia Consolidated Copper Mines (ZCCM) starting in the mid 90s.
While there, Kapumpe specialised in lead decontamination in Zambia's lead-mining town of Kabwe.
Between the years 1994 and 2002, Kapumpe also worked for a mining company called Noranda in Canada while on secondment by ZCCM.
When Kapumpe started his company, Your Changing Lives (YCL), over a year ago, his idea was to change the quality of people's lives through sanitation and help restore their dignity through sanitation innovations.
Your Changing Lives specialises in sanitation education and manufactures fibre glass toilets for use mainly in Zambia's high-density areas where pit latrines are commonly used.
In the past, sanitation was a field few in the private sector thought to venture into as it is largely work that should be handled by the public sector.
In this regard, Kapumpe, through Your Changing Lives, works with institutions such as the Lusaka City Council (LCC), Ministry of Health (MOH) and Ministry of Community Development, Mother and Child Health in improvising ways of promoting environmental and sanitary awareness among people.
What they find in many rural and peri-urban communities is unpleasant to both the eye and nose. In densely populated townships of Lusaka such as Kanyama and Chawama, up to 40 or 50 people, sometimes more, have been recorded using the same pit latrine.
There is no guessing the health risks such a situation poses. Not only are the pit latrines used by so many people at once, they are also poorly managed.
Unfortunately, the people found in many of these peri-urban communities seem adjusted to this unsanitary way of living.
This mindset is what Kapumpe continuously strives to correct through behavioural change programmes designed by Your Changing Lives.
"They don't know any better," Kapumpe says. "They believe they don't have any choices, so as a social entrepreneur, I look at providing solutions that help change their attitudes."
Kapumpe's business model uses a three-pronged approach. Firstly, the company provides microbial enzymes which are a product in granular format that are considered environmentally safe.
The product, packed in a 100-gramme sachet, is poured into a pit latrine to break down all fecal matter reducing them into harmless water that dissolves into the ground.
This sachet is enough to cater for up to five or six people and need only be applied once a month.
YCL also manufactures lightweight fiberglass toilets that are fixed on top of a pit latrine so that users do not have to squat as they answer the call of nature.
The toilets come in two types: One called Toilet Zungu and the other called Toilet Yanga. Initially, YCL was supplying the microbial enzymes but later began supplying fibre glass toilets.
To date, over 500 toilets have been supplied not only in Lusaka's peri-urban areas but in Luapula and Southern provinces as well.
Since the products made by YCL are organic, they cannot be supplied without education being provided on their use and also on general toilet management.
Sanitation and hygiene education is something at the core of Kapumpe's business. Without a mindset change, little progress can be experienced on the ground.
Dr Griphan Chindongo works as an environmental and public health manager at YCL and equally stresses that a serious challenge is establishing why people behave the way they do regarding sanitation.
"When we started conducting surveys, we could tell that in terms of management, the attitude of people was so bad that they did not care what was thrown into the pit latrines," Dr Chindongo says.
In 2013, YCL collaborated with the LCC under a sanitation marketing programme where it was discovered that the majority of households in townships such as Bauleni, Chawama, Chipata and Kanyama were using substances that had a negative effect on the microbial enzymes digestive process of faecal matter.
Despite the numerous challenges, however, Kapumpe and his team are soldiering on with their unique vision and spreading the message of good health and hygiene in areas where it most needs to be heard.
Daily Mail