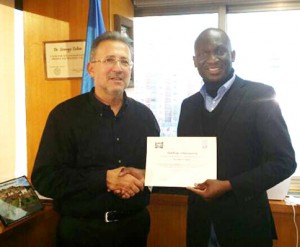 FIRST Secretary for Tourism at the Zambian mission in France Percy Ngwira has been honoured by the UN World Tourism Organisation (UNWTO) for the key liaison role he played while in Madrid, Spain.
UNWTO executive director for member relations Zoltan Somozyi presented an honourary certificate to Mr Ngwira in Madrid on Thursday for his key role as liaison officer for Zambia during the preparations and co-hosting of the 20th session of the UNWTO General Assembly by Zambia and Zimbabwe.
A personal letter dated December 17, 2013 from the UNWTO Secretary General, Taleb Rifai, reads in part: "We are well aware that it required enormous efforts from all of us to organise such an important international gathering with so many participants from all over the world sharing venues and responsibilities between the two countries.
"I am confident that this could not have been possible without your personal involvement since the very time you first came to the UNWTO Headquarters as Liaison Officer for the preparation of the Assembly.
"I truly appreciate your hard work and your readiness to solve any issues that needed your attention and action," the letter read in part.
Dr Rifai noted that those proceedings of the Assembly went on in an open, friendly and co-operative atmosphere.
And Mr Somozyi has observed that Mr Ngwira became an important bridge between Zambia and the UNWTO Secretariat and made a valuable contribution to the smooth hosting of the world event.
Mr Ngwira and his counterpart from Zimbabwe become the first to receive such certificates of honour from the UNWTO.
A Zambian embassy spokesperson said from Paris that government is proud of this achievement and congratulated Mr. Ngwira for his hard work and honourable representation of the country during the global event.