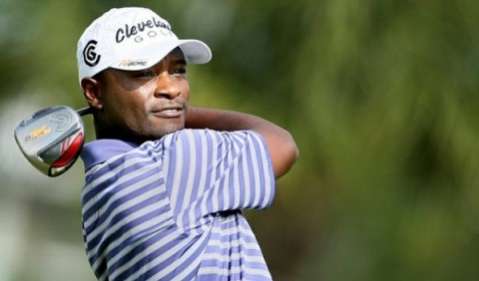 ZAMBIA yesterday got off to a flying start at the Tri-Nation Junior Golf Match Play Championship taking a three-point lead after the morning foursome, which has been the host's traditional weak point.
Despite facing overwhelming favourites Zimbabwe, who have dominated this tournament, Zambia, came off the morning round with an encouraging 10 points, three clear of the defending champions while Botswana anchored the log standing with just one point.
Watched on by Madalitso Muthiya, who played against the golfers in a series of preparation rounds prior to the tournament, the first game of the foursomes saw the Zambian pair of Muvwanji Simukoko and Charles Shalubobya put the host in the driving seat.
Simukoko and Shalubobya put collected four points after beating their opponents and ended the contest on the 17th hole and thereby took a 3/1 win off Botswana and a 2/1 victory over Zimbabwe, who collected two points from the round after taking a 1-up  win over Botswana.
But the second pair of Kelvin Chibuye and Sailus Mbewe came short on the last hole where Zimbabwe took a 1-up win over Zambia but halved against the Botswana pair that Zambia had beaten 2/1.
From this pair, Zambia came off with two points to trail Zimbabwe by a point while Botswana were left comforted with the collection of one point, which happened to be their only point of the morning round.
After this round, Zambia commanded a slender one point lead with six points with Zimbabwe in close second with five and Botswana on one point.
And the last group of the top players saw Zambia blaze through the course with team captain Peter Munyinya proving inspirational to his partner Gabriel Chibale with the best showing of the day.
Zambia ended Botswana's resistance as early as the 14th round taking a 5/4 win off the Tswanas and then walking off the course to the Club House in the 16th hole after taking a 3/2 win off Zimbabwe to collect all four points to take Zambia to 10 points.
Zimbabwe kept Zambia within touching distance by beating Botswana 3/2 to collect two points for a morning session's total of seven, three off leaders Zambia.
And Zambia Junior Golf Association (ZJGA) Director Alloysius Phiri expressed happiness at the results though quickly ruled out early celebrations until when the tournament came to an end, saying there was a long way to go.
"The morning round was impressive, I am happy with the performance but in golf, this means there is a long way to go and we can only hope that they keep the spirit and momentum going so that we stay ahead.
"The foursome have not been so good for us previously so even in camp, the coach (Patrick Mwendapole) emphasised on the pairings and we hope they keep going like this," Phiri said.
The tournament continues today and ends tomorrow.
Times of Zambia