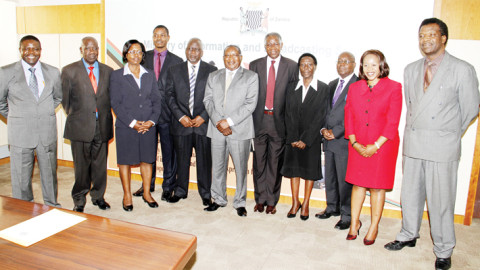 GONE are days when the Zambia National Broadcasting Corporation (ZNBC) and other public media houses were a monopoly of the government in power.
Minister of Information and Broadcasting Services, Mwansa Kapeya, who was speaking in Lusaka yesterday, also said the Zambian government is proud that its efforts to deregulate and de-politicise ZNBC and other public media institutions are bearing fruit.
He made these remarks during the unveiling of the ZNBC board of directors at the Government Complex in Lusaka.
"The new ZNBC board takes office against a backdrop of landmarks and unprecedented success in the media industry under the Patriotic Front (PF) government led by his Excellency, President Michael Sata," Mr Kapeya said.
"ZNBC programming and news coverage are now a marvel to watch and listen to. The corporation has since recaptured its audience nationwide."
He said that ZNBC had recently installed a new ultra-high frequency (UHF) television transmitter at the Mass Media Complex to enhance its outreach and output of quality television service to the public.
Mr Kapeya also said that Government is delighted that the "journey" of establishing a ZNBC board that started in 2002 and which was continued by the PF in 2011, had come to its completion point.
He noted, however, that ZNBC faces huge operational challenges as the corporation is financially unstable with heavy reliance on Government funding for key capital projects and programmes.
"From end of 2011 to date, Government has given ZNBC in excess of US$8 million, about K40 million to meet various critical operational costs," Mr Kapeya said.
"The corporation has a backlog of K242 million in statutory obligations to Zambia Revenue Authority (ZRA) and NAPSA (National Pension Scheme Authority)," Mr Kapeya said.
The ZNBC board members are Edward Lubinda, Cleven Katebe, Joan Nkama, Arnold Kapelembi, Inonge Wambulawae, Ngoza Chibesakunda and Dr John Mulwilwa as board chairman.
Mr Kapeya is also expected to nominate two more individuals who will have to be ratified by Parliament.
He assured the board of government's support as it embarks on its important work for the next three years.
Mr Kapeya has also disclosed that on December 27 and 28 this year, Shangombo and Mulobezi districts will be officially connected toZNBC radio through the provision of an FM transmitter.
On December 12, Parliament ratified the ZNBC board in line with the provisions of the ZNBC Act.