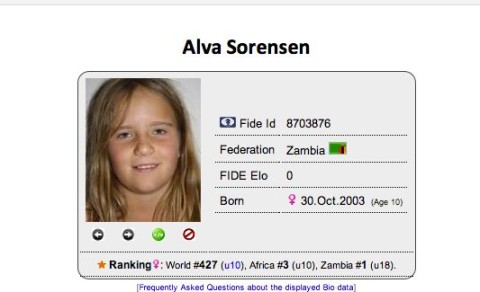 THREE Zambian players are in the United Arab Emirates (UAE) where they are expected to take part in the World Youth Championships that gets underway today in Dubai. 
The three players that left aboard an Emirates Airline plane on Monday night include the two Sorensen fraternal twins, Hampus and Alva as well as exciting Jonathan Thomas.
Thomas will compete in the Boys Under-14 category with Hampus taking part in the Under-10 Open while his twin sister, Alva, will compete in the Girls Under-10 category.
The three player's departure comes as a big relief to both the Chess Federation of Zambia (CFZ) and their families after Thomas was hit by a visa hitch for the UAE.
The World Youth Chess Championships will be an 11-round championship that will end on Sunday, December 29 with the tournament having breaks in form of a Blitz tournament day, a cultural celebration day and a free day between the eighth and ninth rounds.
Thomas has seen international exposure as he participated in the South Africa Junior Open tournament early this year where he finished third and has been a dominant force at junior chess level in the country.
His biggest competition has been Hampus though he has usually come out on top and their trip to Dubai represents another way to showcase their skills and potential.
For Alva, it has been plain sailing as she made headlines last week, after making the last stage of qualifiers for the senior national team despite her tender age of just 10 during trials held at the Olympics Youth Development Centre.
In a national tournament at which the CFZ was looking for just five players, Alva made the cut by finishing fifth and would not have to compete for five places in the national team with five already established players like Epah Tembo and Lorita Mwango.